June 8 to June 28 - Westward to the Sea! - Part 1

As you can see by the map, we'll cover a lot of territory in these two reports - figuratively and literally. Almost 2,300 miles from Michigan to the Oregon Coast in just five weeks! Along the way, we ticked off one more bucket list item and gave up on another. We spent a few nights in places we've never been before. We ran into camping congestion for the first time in our 10 years on the road, and thus had to make some changes to our plans. And we were forced to break our 2-2-2 rule several times. The 2-2-2 rule says we'll drive about 200 miles in a day, arrive by 2pm, and stay at least 2 nights. Problem is that as we move west, the places we can stay become further apart. And because there seemed to be a lot more RVs competing for those places, we didn't always get to stay where we wanted. Here's our report for the right half of that map.
On June 8, we left Muskegon MI (16) and drove an easy 112 miles back to the Bear Cave Resort (17) just north of the Indiana state line. We overnighted there, and the next day put in 344 miles to one of our favorite stops, the Amana Colonies RV Campground (18) at Amana IA. We were there 4 nights, and we able to check off another bucket list item - the Herbert Hoover Presidential Library and Museum.. We've now been to every "official" US presidential library-museum plus a few extras.
We didn't know a lot about Hoover other than he got a lot of undeserved blame for the Great Depression. Born in Iowa, he grew up in Oregon and went to college at Stanford in California. His degree was as a mining engineer, and at age 21 he bluffed his way into a job at an Australian gold mining operation, was the manager within two years, and was soon assigned to head a gold mining operation in China. He was very successful and handsomely paid, and was a multi-millionaire by the time he was 30. Raised a Quaker, he started looking toward a life of public service, and acquired quite a reputation as someone who could get things done. He also developed a strong conviction that things were best done if the government didn't get involved. Examples: At the outbreak of World War One, some 120,000 Americans were trapped in Europe. Hoover was asked to help get them home. Within a day, it's said, he had raised over a million dollars (most of it his own) and recruited over 500 volunteers, and ultimately got them all home. A short time later, he was made aware of a dire food shortage in Belgium , and organized a food relief operation. At the peak, it was feeding 10.5 million people a day at a cost of $11 million dollars a month. He is still regarded as a national hero in Belgium.
President Warren G. Harding appointed Hoover as Secretary of Commerce in 1920, and along with running his own department, he quickly got the unofficial title of "Secretary of Everything Else", as he was constantly offering suggestions to anybody who would listen on how to improve things. For the most part, his suggestions worked. When Harding died in 1923, new President Calvin Coolidge kept Hoover on. But Hoover's warnings to Coolidge about what he saw as a coming economic disaster went largely unheeded. In 1928, Hoover ran for and was elected the 31st US President - the last president to have previously served as a cabinet member. Eight months after taking office, the stock market crashed, and there wasn't much he could do to blunt the effects. He tried to resolve the situation by organizing self-help programs rather than providing direct government aid. When he lost the 1932 election to FDR, he started bombarding the new president with suggestions about restoring the economy. FDR generally ignored those suggestions.
After leaving office, Hoover became a leading conservative critic of "big government", a role he continued until his death a the age of 90 in 1964. He was a very popular figure on the early television news programs. There's lots more, of course, Look him up on the internet if you want more.
Also while at Amana, we visited the local Costco to get another tweak to Al's hearing aids. The Costco outside Iowa City may be the only one with an enclosed parking lot. The store took over a vacated agricultural warehouse and made the excess space into covered parking - very welcome on hot Iowa summer days and snowy Iowa winter days.
On Monday June 13, we hooked up and drove the next 378 miles to Sioux Falls SD, where we stopped for the night at the county fairgrounds (19). They have 80 RV spaces available at a modest price. Normally, we'd have chosen to spend the night at a truck stop or big box store, but the temperatures were high enough that having electric power for air conditioning was pretty much essential. We'd expected to drive north from Sioux Falls to Fargo ND so we could complete our sweep of all of the lower 48 states. But after a lot of planning, it became evident that it just wasn't practical. We'd add over 1,000 miles to the trip and another 3-4 days just to put another sticker on the map. We'll have to save that for another time.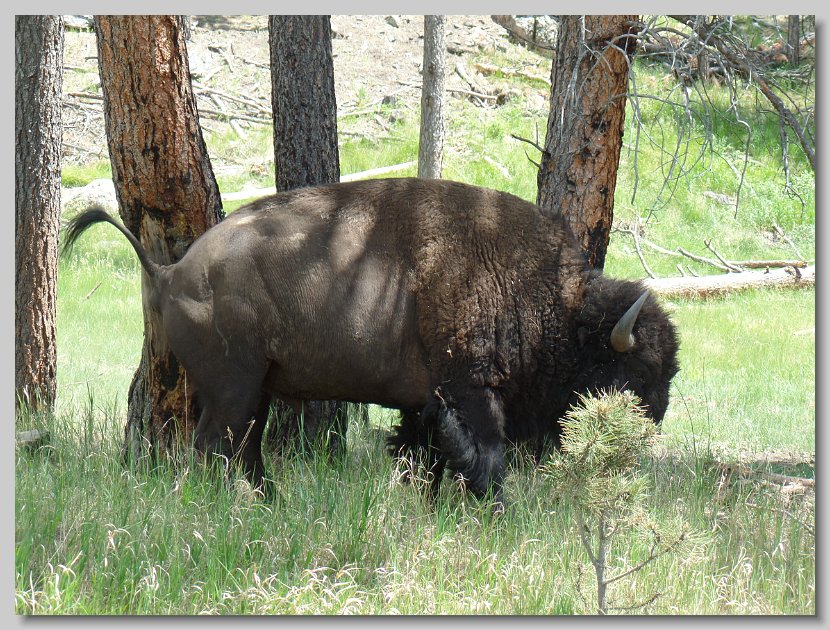 We mentioned campground congestion. We'd hoped to spend two weeks in the Rapid City area, where we have reciprocal privileges at two RV resorts. But one we couldn't get into, and the other could give us only one week. So, on Tuesday the 14th we drove an easy 75 miles and checked into the Family Fun RV Campground (20) just outside Mitchell SD. We like Mitchell - the Corn Palace is always interesting, and there's a Culvers we can indulge at. Mostly we just lazed around and really didn't do much at all - killing time until we could keep moving west.
After a week, we drove the remaining 279 miles to the Rushmore Shadows RV Resort (21), just south of Rapid City, for a one-week stay. The Rapid City area is officially our "home town", and we like it there. During our week, we spent a delightful day driving through the most excellent Custer State Park, visited our "home" address in Box Elder to pick up our mail, and ate more than once at one of the local Culvers. And when the service indicator on the Honda showed it was time for an oil change, we went to the local Honda dealership and not only changed the oil but got four new tires and some new sun visors to boot. They even washed the car. About those sun visors - our one gripe about the 2012 Honda CRV is that the sun visors are not adjustable. While you can swing them to shade the side windows, they won't extend to shade the rear portion of the window. But the visors on the 2015 CRV do, and they are direct replacements for those on the 2012. So we bought two and had them installed. We don't squint as much now.
If you're up for more, our trek to the sea continues in Part 2. But first, you might want to check out our slideshow. There are just 32 pictures. Won't take too long. Check it out here if you choose.