Aug 24-30 - Ohio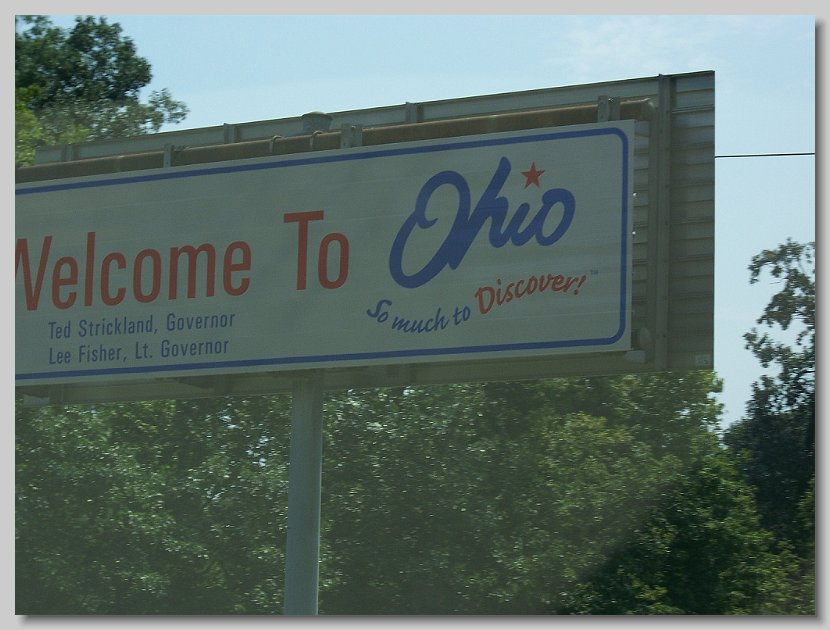 As we've said before, unless we have some specific reason for stopping somewhere, we pick our stops primarily based on how far they are from the previous stop, flavored a little with how inexpensive it is and some feeling that the place might be interesting. So in transiting Ohio on our way east, we picked one stop that looked kind of interesting and another that was really cheap and in the right place. And we scored very well both times.
Our first Ohio stop was at Port Clinton, Ohio - a beach resort town on the shores of Lake Erie, just across the bay from Sandusky, which is right next door to the Cedar Point Amusement Park, home of more roller coasters than any other single location on earth. We expected we'd go to Cedar Point one day and kind of just veg the rest of our four days. Boy were we wrong. Never did get to Cedar Point. Saw it once across the water, though.
The Sandusky area is located in the Firelands of Ohio. Why Firelands? During the Revolutionary War, the British burned a lot of folks out of house and home in Connecticut. To make amends, the state of Connecticut set aside a bunch of land in their western provinces for the burned out folks to resettle. Western Connecticut in those days was where northern Ohio is today. Although very few New Englanders actually settled on the Fire Lands, the name stuck. So now we all know.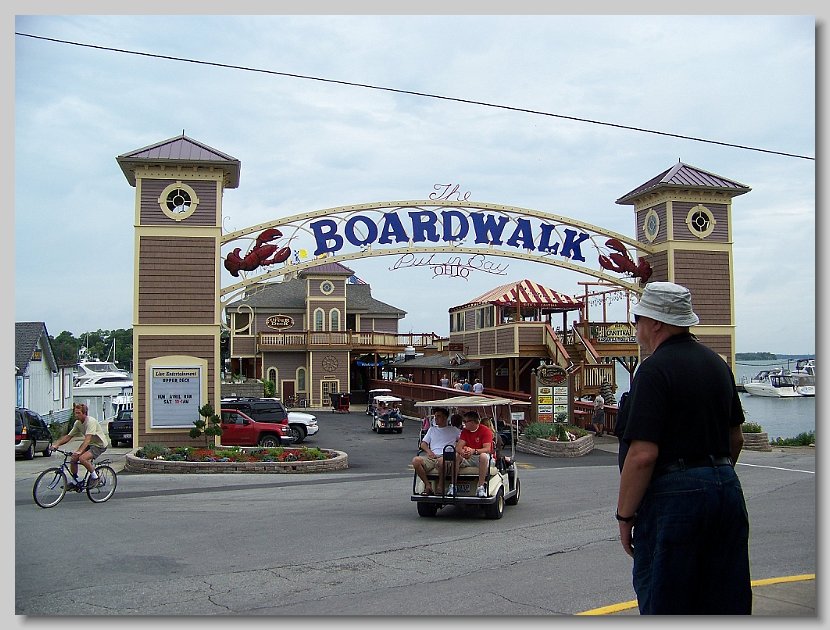 About 15 miles off-shore into Lake Erie is South Bass Island, a resort island. The only town is Put-in-Bay. It's where Commodore Perry holed up before launching his decisive naval victory over the Brits during the War of 1812. Today, it's a full-blown summer resort. Lots of places to eat. A winery, some caves, a chocolate museum, some neat buildings. Some serious marinas. You get there by ferry boat, and once there you get around by renting a golf cart. Come sundown, the island hosts some serious partying by folks much younger than we. We spent one day on the island. We really want to go back. It's way cool.
A few miles south of Sandusky is the small town of Milan (pronounced MY-lan, so you won't confuse it with that place in Italy). Once upon a time, Milan was a major grain shipping port. But all anybody remembers now is that it's the town where Thomas Edison was born. We toured his birthplace and museum. Most interesting.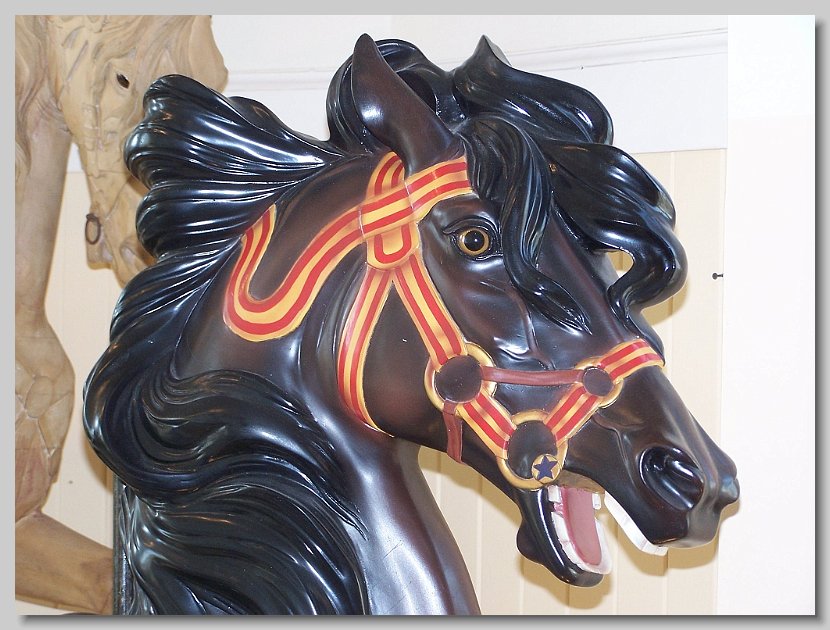 In downtown Sandusky, there's a Merry Go Round Museum, with one wonderful carousel and a bunch of exhibits on the history of carousels, specifically on the carving of carousel animals. We took the tour, rode the Merry Go Round (twice), and thoroughly enjoyed ourselves. But they didn't have a brass ring to catch.
Sandusky is also the home of Toft's Dairy, makers of some really good ice cream. Don't know if it's any better when you buy it right there at the dairy, but what we bought there sure was good.
Another small town a few miles south of Port Clinton is Bellevue. We headed there to take a cave tour, but got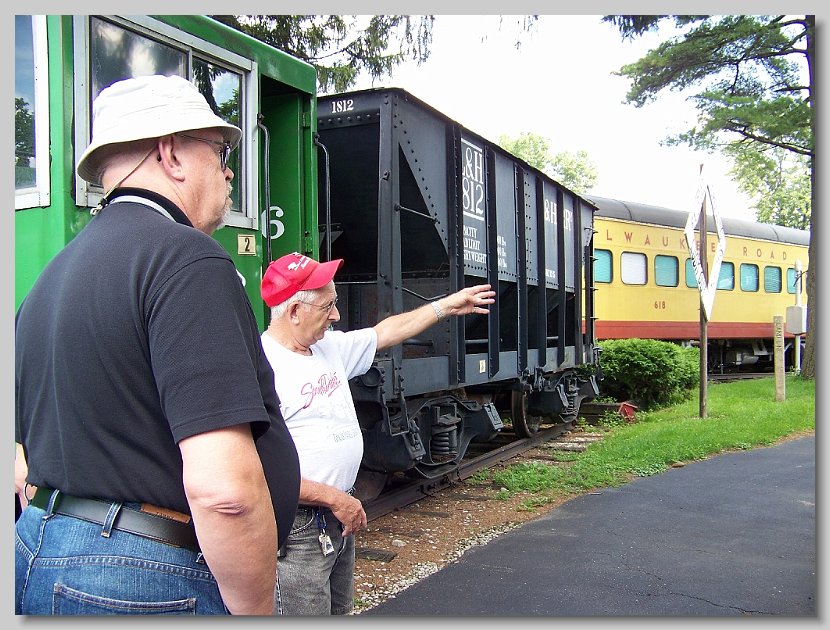 sidetracked (pun intended) by the Bellevue Railroad Museum. Once upon a time, Bellevue was a major rail center for several railroads, most significantly the old Nickel Plate Line. About 25 years ago, some of the old railroad guys decided to start a museum, and managed to accumulate an impressive collection of stuff. Locomotives, freight cars, passenger cars, all sorts of memorabilia. You can climb into almost every car, and it would take more than one day to actually absorb all of the information available. Couple that with some very talkative volunteers, and you almost want to sign on to do some work. Almost. Not quite.
Oh - that view of Cedar Point? From the grounds of the Marblehead Lighthouse, just across the entrance to Sandusky Bay from Cedar Point. We found Marblehead late on our last day, and we need to spend some more time there.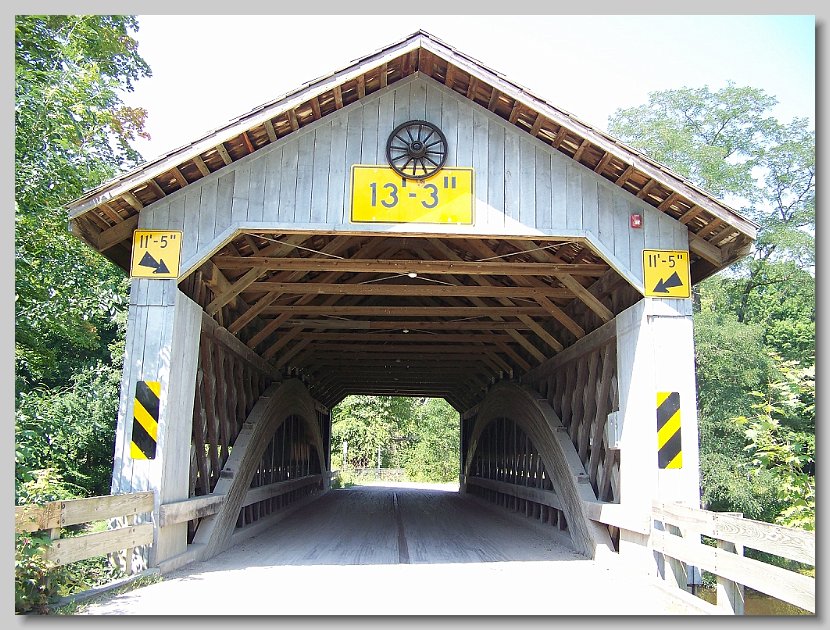 From Port Clinton, we headed east to a 1000 Trails park near Jefferson, Ohio. We planned two nights, mostly because it was halfway between Port Clinton and our next "real" stop near Buffalo, NY, and because we're members, it's free. Jefferson is the county seat of Ashtabula County. Ashtabula County has more covered bridges than any other Ohio county. They have two covered bridge tours and a covered bridge festival. They keep building more covered bridges. They are very proud of their covered bridges. We obviously had to take the tour. We managed to visit 11 of the 16 bridges, and even managed to squeeze in a lunchtime visit to Geneva-by-the-Lake, a past-its-prime beach resort on the shores of Lake Erie. Maybe that's not fair - we were there on the first day of school in Ohio, and the town was absolutely dead. The only restaurant that was open was the Lake View, on a bluff right on the water, where we shared the patio with a bunch of bees before giving up and moving inside to eat a spectacular meal. Maybe in season the town is more alive. And then we were eastbound again, headed into New York State.
Sometimes, unexpected discoveries are the best kind.
We've posted pictures, of course. There are over 100 images in the Ohio slide show. You'll find them here.