Aug 30 - Sept 6 - Western New York State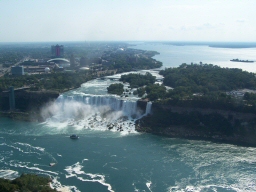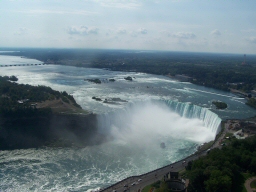 We'd made reservations to spend a couple of weeks in Pennsylvania Dutch Country after Labor Day, and needed some place to be over the Labor Day weekend. Why not in the Buffalo, NY area, close enough to Niagara Falls? We'd been to Niagara Falls for just one day about 10 years ago, and knew we'd enjoy the area again. Our RV park turned out to be about 60 miles from the falls, so we did a lot of commuting, but the commuting also enabled us to find some other things we'd probably never have known about otherwise. No question that the Falls were our primary interest - we spent parts of five days at and around the falls, and many of the pictures in our slide show reflect that. But we also found toys and butterflies and a carousel factory and some spectacular fudge and a new appreciation for Canadian ice cream and more.
Interesting fact: In Buffalo, they sell a lot of "Chicken Wings". Same things everybody else sells as "Buffalo Wings". In fact, there was a big Chicken Wings Festival in Buffalo over the holiday weekend. We didn't go. We get enough of our food on our clothing as it is without going to a special venue dedicated to dribbling sauce on your shirt.
East Aurora, NY was the closest town of any size to our RV park (which was near Bliss, NY). East Aurora is the home of the Fisher Price Toy Company, and so is known as Toy Town USA. Naturally, there's a toy museum. Naturally, we went. A very interesting place, on the grounds of Fisher Price. On the lawn outside the toy factory are a bunch of parade floats - giant replicas of those Fisher Price wooden pull toys kids have been getting for so many years. East Aurora also claims to have the only remaining home that Millard Fillmore ever lived in (excepting the White House). We never did find it. We did find some most impressive Victorian-style homes, though, and some costumed fire hydrants. Really.
North Tonawanda is a suburb of Buffalo. Back around the turn of the 20th Century it was also pretty much the headquarters for the building of amusement rides in North America. Primarily, those rides were carousels, and there were several factories turning them out. Along with carousels came band organs to provide the music, also manufactured here by Wurlitzer and others. In later years came dodge-em cars and kiddie roller coasters and those little trains that still run around some parks and zoos. Today, about all that survives is the Herschell Carousel Factory Museum. They have one beautifully restored carousel we rode, and some wonderful exhibits showing the story of the factory and the amusement ride industry of the area.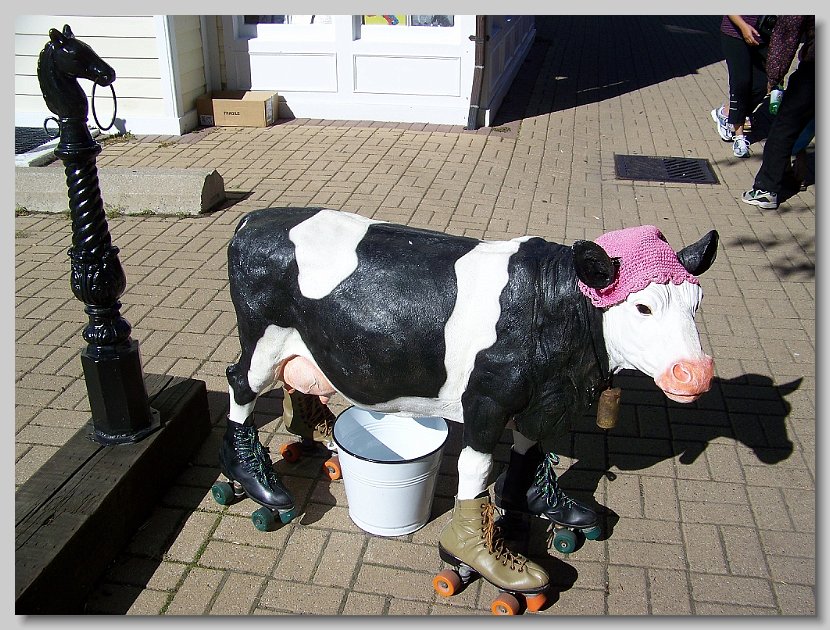 From the lady who ran the carousel we heard about Niagara-on-the-Lake, Ontario. It's on the Canadian side of the Niagara River, where it enters Lake Ontario. She said they had great ice cream and marvelous fudge. Naturally, we felt a strong responsibility to tourists everywhere to confirm this. Niagara-on- the-Lake is almost a throwback to another era, with big homes and big yards and old business buildings (with some quirky businesses) and some marvelous views of the Niagara River and of Lake Ontario. And they do indeed sell some wonderful ice cream and some extraordinary fudge. Something about Canadian standards for butterfat content. The town was also much less crowded than Niagara Falls on Labor Day.
We also visited a wonderful butterfly habitat on the Canadian Side. More than 2000 free-flying butterflies in a tropical dome. You can't help but feel good when there are butterflies filling the air. You'll see some of them in the slide show.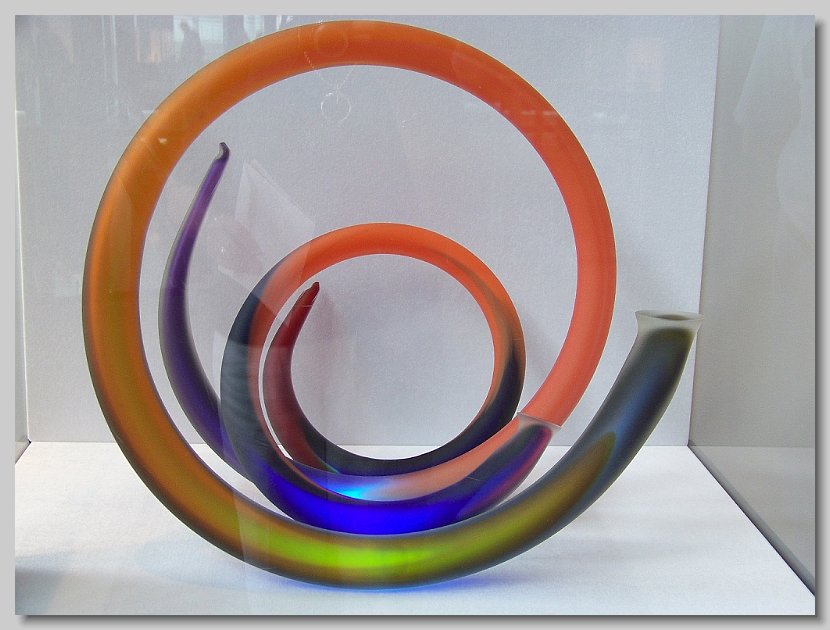 On Sept 6, we pulled out and headed south toward Pennsylvania. As we neared the state line, Judy spotted some billboards for the Corning Museum of Glass. Corning, NY is the home of the Corning Glass Company. We don't normally detour the motorhome for things like this, but this one was too good to pass up, and the detour was only 6 miles. The museum itself showcases not only the history of the glass industry in Corning, but the history of glass making worldwide the last 5000 years. And it has a marvelous collection of glass art - from Tiffany glass objects to modern abstractions. You can also tour the Steuben Glass Works, where hand-crafted glass and crystal art objects are made. We allowed ourselves 3 hours, and could have spent 3 days. If you're ever in the area, make some extra time.
We've posted pictures, of course. There are nearly 200 images in our Western New York slide show. You'll find them here.