Sept 6-20 - Hershey, PA Area
The 1000 Trails Preserve just outside Hershey is a great base for exploring south-central Pennsylvania. The Amish areas of Pennsylvania are just 20 miles away, the Civil War battlefields of Gettysburg only 50 miles away. And then, there's Hershey, and all that chocolate.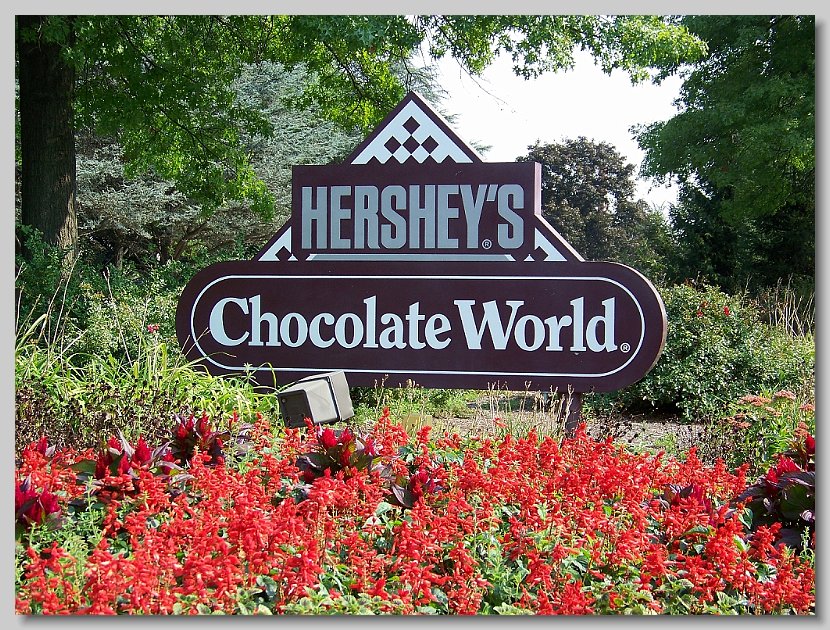 God may have created the heavens and the earth, but around here, Milton Hershey runs a close second. In 1903, he picked this place to build a new chocolate factory. And then he built some homes for his workers. And then some schools and churches and stores and streets. And a zoo, an amusement park, a hotel, some gardens, a hospital, and perhaps most notably, a trade school for orphan boys. Everybody's heard of the chocolate, but it's that trade school that really drives this community. When Mr. Hershey endowed a trust to perpetuate the school with $60 million in 1918, he created an almost unbelievable economic engine. Today, that trust is worth about $13 billion and owns almost 80% of the Hershey Chocolate Company. The school today has about 1300 students (including girls), and the trust even funded (to the tune of $50 million) a major medical center operated by Penn State. All that in a "town" that was never incorporated. Legally, it's still "Derry Township". The Post Office may be named Hershey, but there's no city by that name.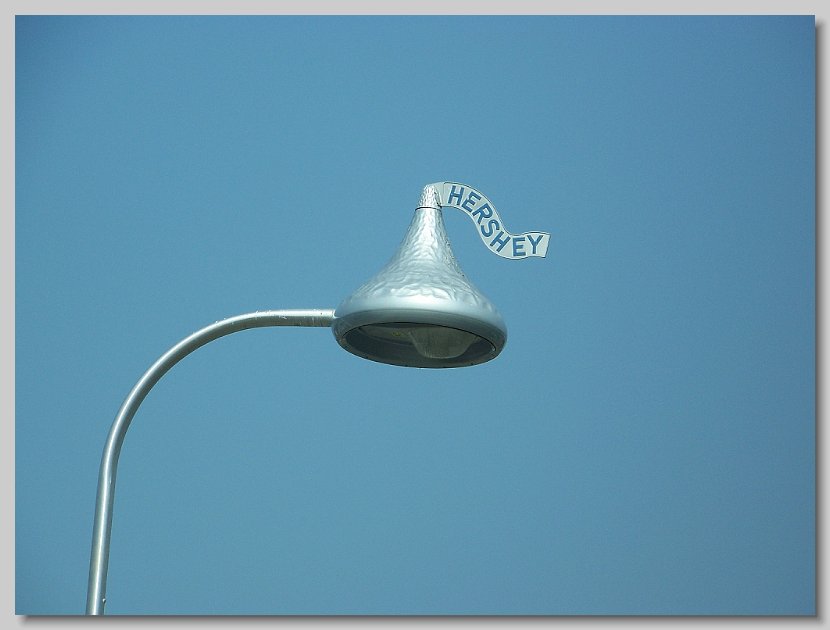 Facts: Yes, Hershey smells like chocolate, but only when you stand or drive outside the vents at the factory. Yes, the street lights are in the shape of Hershey Kisses. Yes, there's a Chocolate Avenue, and it intersects with Cocoa Avenue in the middle of town. No, you can't take a factory tour. And no, the Hershey Bar is not their best seller - that's Reese's Peanut Butter Cups. Hershey Kisses are No. 2, and the Hershey Bar is No. 3. But Yes, we did sample them all. Even the asphalt on Chocolate Avenue is chocolate-colored (but not chocolate flavored)!
So many things to chat about. We stumbled into the self-proclaimed "Largest RV Show in America" - some 1,300 RVs in the parking lots surrounding the Hershey hockey arena. We spent a day wandering through motorhomes of every size and description. We saw a lot of neat motorhomes, but nothing that compelled us to buy one.
We happened upon the Derry Presbyterian Church, which has been operating since 1724. The land the church is on came in a land grant from the sons of William Penn. The adjoining cemetery contains the graves of veterans of the French and Indian War, the Revolutionary War, and the War of 1812. And the church today is alive and well, with about 700 people worshiping on a Sunday.
Hershey is the home of the American Antique Car Association, and their museum is a gem. It houses the oldest operating automobile in America - an 1895 Benton, made in Benton Harbor, Michigan.
We made a couple of trips to the Lancaster area, the self-proclaimed hub of Pennsylvania Dutch country. We're not sure how long there will be a Pennsylvania Dutch country, as the more correct term Pennsylvania German is coming into use. It's hard to take pictures of the Amish who give this area its flavor - they believe that anything that shows their faces are Graven Images. So we didn't take any of them, but did take some around the area.
Just a few miles away, on the grounds of a large winery, is a Renaissance Faire, where we spent a fun day partaking of various medieval pleasantries. Lots of outrageous costumes, music, playacting, and of course dozens of booths selling items of every description. And several harp sightings!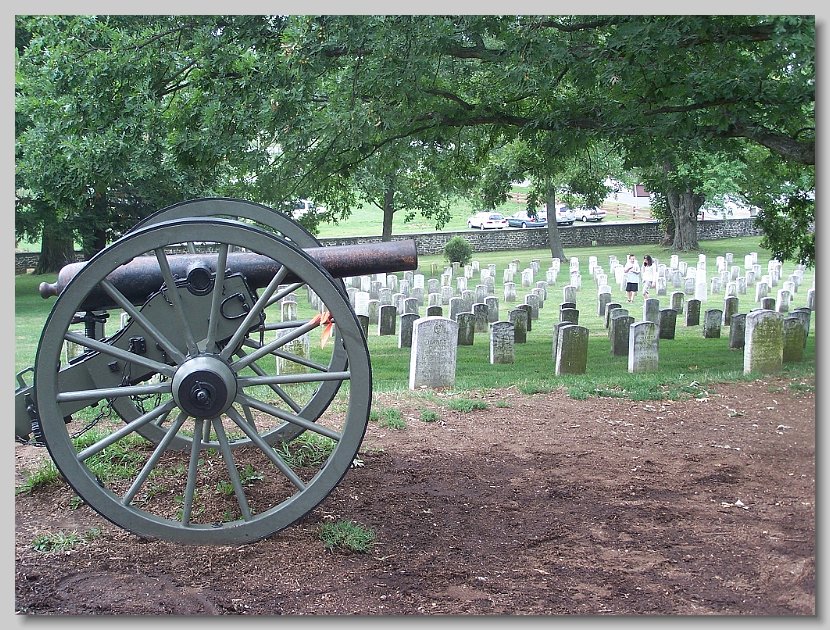 We spent one day in Gettysburg, touring the battlefield and many of the 1300 monuments erected about the fields and hills. We'd have to know a whole lot more about the history to fully appreciate the national treasure that is the Gettysburg Battlefield National Memorial. While there, we stumbled upon the Springhouse Tavern, in the basement of the Dobbin House. We had lunch, and only then found out that it's the oldest building in Gettysburg, built in 1776 by a Presbyterian Minister as a home and "Classical School" for his 19 children - 10 by his first wife, who died in her early 30's, and nine who came with his second wife.
Lest you think we've lost our focus on important things, you'll be pleased to know there are some very good places to get ice cream in the Hershey area. Besides the ice cream stand inside Hershey Chocolate World serving Hershey's own, there's a chain of stores named "Bruster" that serve some powerfully good cold stuff, and a 50-year-old family ice cream company named Mazzioli's that attracts folks from miles around, plus Friendly's, a chain with great ice cream and wonderful burgers. Mega Yums.
We've posted pictures, of course. There are about 100 images in our Hershey area slide show. You'll find them here.