Feb 7-21 - Largo & Crystal River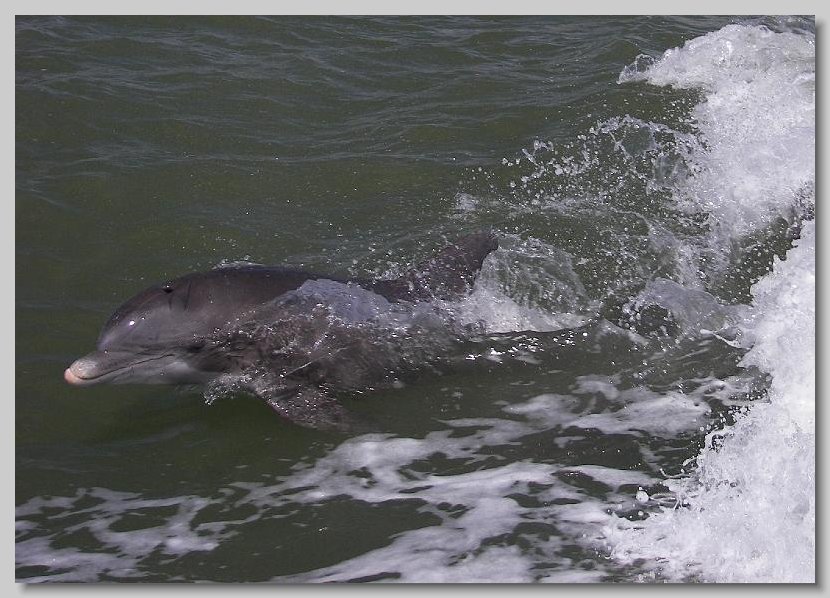 Old Business: Last report, we lamented not getting pictures of the dolphin which surfed the wake of our tour boat in the Everglades. Our new friend Alice Schultz from Waukesha, WI sent us this one she got of the dolphin. It's also the first one in this report's slideshow. Thanks, Alice! And now back to our regularly scheduled report.
We've lumped these two stops together because neither one individually justifies a full report, and also because there are some common frustrations between the two stops.
Largo is a smallish city sandwiched between Clearwater on the north and west and St Petersburg on the south and east. The Vacation Village RV Park is very much an island in the city, and getting there was a challenge, as the highway it fronts on is under major construction. Has been for over a year. Probably will be for another year.
Our arrival at Largo was uneventful, until somewhere around 5am when it became apparent that our water problems from Fort Myer's had returned. This time, however, the water was running inside the motorhome, and as we were connected to park water, it just kept running and running and running. It didn't take too long to turn the water off, and it didn't really take too long later in the morning to once again replace the plug which had popped off the end of the pipe, but it took all of our towels and most of a week to dry out the carpeting in the bathroom. Fortunately, knock on wood, there's been no evidence of a repeat performance. Things just don't dry out very well when the relative humidity is 90+ percent.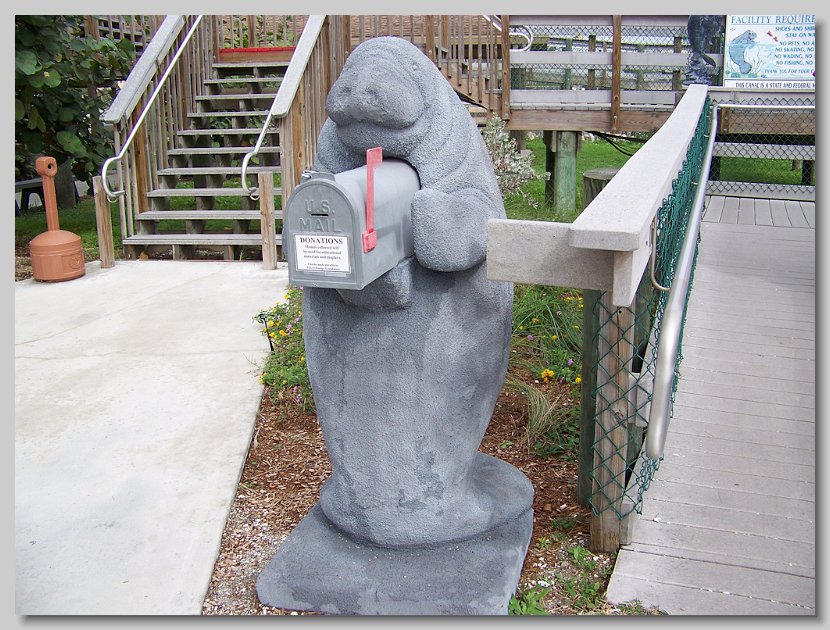 We'd heard about the manatees that congregate around the warm water outlet of the Tampa Electric Company's power plant at Apollo Beach, so while the carpet dried out, we set out to see what we could see. Two weeks earlier, we heard there were about 60 manatees at the plant. We, however, saw nary a manatee. The water temp in Tampa Bay was warm enough that the animals didn't come to the power plant. We spent several hours in big city traffic and came away with pictures of a couple of vultures. Minor bummer. But we did find a couple of nice places for pictures in the area, so it wasn't all for naught.
Our next trauma surfaced when we noticed that the car air conditioner was blowing hot air when it should have been cold. We've learned that when you meander as we do, you should always have major work done by national chains, so you can get follow-up down the road if necessary. So, we wound up at the local Midas shop, where they informed us that the AC compressor had partially given up the ghost. Took them most of two days to spend $1200 of our money getting all the appropriate pieces replaced. The car was finished just moments before we departed for Crystal River, so we just drove the motorhome to Midas, hooked up the car and left town.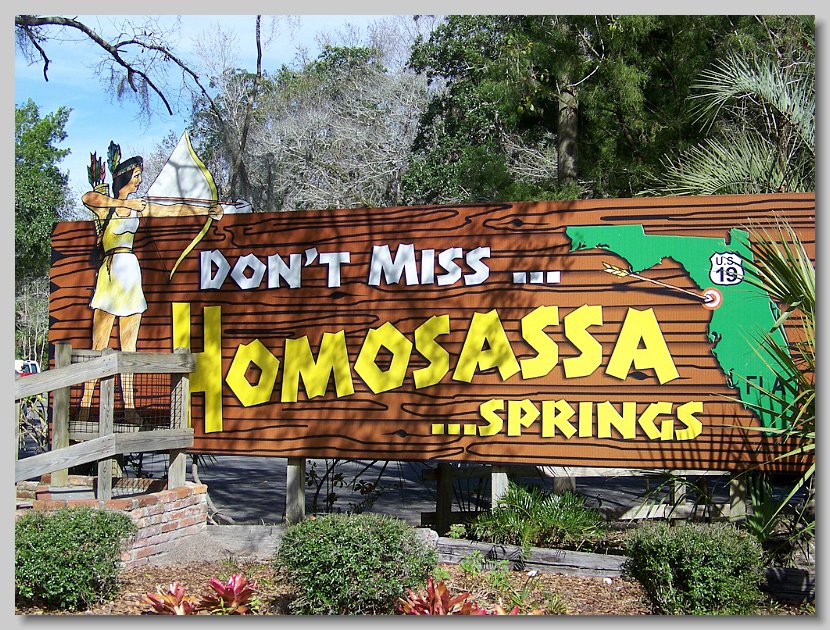 Crystal River is about 80 miles north of Largo, in the middle of what they call the Nature Coast. The area is riddled with spring-fed rivers and complex estuaries. We'd come here primarily because we wanted to see manatees, and there are between 600 and 2,000 of them who winter in the area. The RV Park was spectacular - just 4 miles from the Gulf, with lots of trees and lakes and even an on-site soft-serve ice cream stand. And just a few miles south of Crystal River is the Homosassa Springs Wildlife State Park. And they have manatees. Although a state park, it's more like a zoo, and in fact used to be a roadside animal park. When the state bought it, they set out to make it a park featuring native Florida wildlife. And it's really, really nice. Other than us tourists, the only non-native animal we saw was their resident hippo. They never could find anybody to adopt Lucifer, so he's still there. Many of the pictures in our slide show come from the day we spent wandering this wonderful park. If you're ever in the area, be sure to visit.
As we were leaving the state park, we noticed that our car air conditioner was blowing hot air. Needless to say, we were dismayed (major understatement). So, next morning (a Saturday), we headed to our nearest Midas shop - 50 miles away in Ocala. After explaining the situation, they took the car in and confirmed that we had a problem. They suggested that we come back on Monday when they were less busy, and when there would be parts available if necessary. So we did, and after several hours were told that the car probably needs a new computer. Seems the cooling fan doesn't always run when the AC is on, which causes the compressor to overload and shut down. And you can only get a computer from a Chrysler dealer, as it has to be programmed for your vehicle when it's installed. So, we'll be visiting the Chrysler dealer in Clermont when we get back in the Orlando area in another week or so. But at least all that diagnostic work was under the warranty, and as one of the consequences of the computer problem can be a damaged compressor, we really want to believe that we didn't get ripped off in Largo. Anyhow, the Chrysler dealer will want to do their own diagnosis before installing a new computer, so we'll be spending more money in the name of creature comfort. In the meantime, we may get warmer than we like.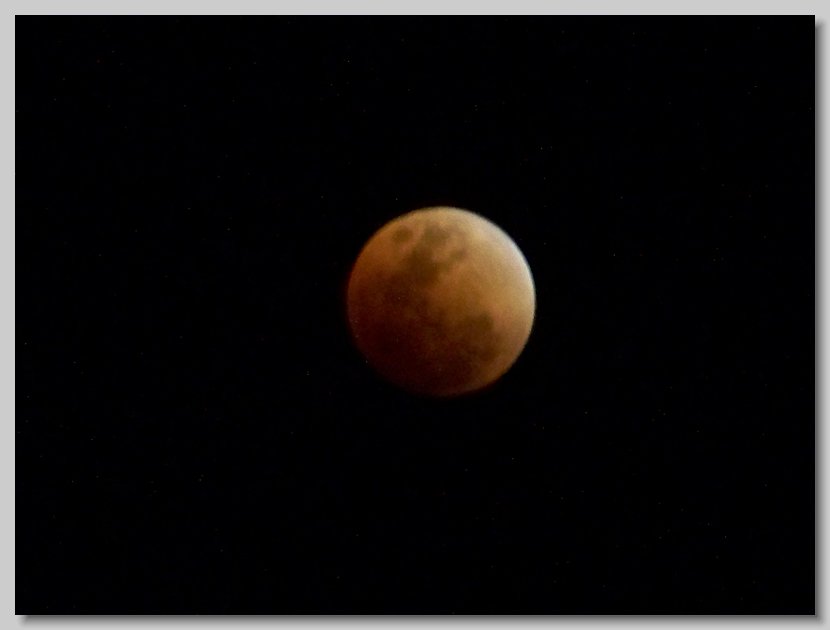 The last night at Crystal River was the lunar eclipse on Feb 20. And the sky cleared beautifully about 9:30 so we could see it. As it was the last total eclipse visible in North America until 2010, we're glad we could see it. The pictures didn't come out all that well, but we posted one anyway. Seems that autofocus cameras don't know what to lock onto when the target is several hundred thousand miles away.
There are about 100 pictures in our slideshow for these two weeks. You'll find them here.