June 27-July 14 - Yellowstone!

We took three days to drive the nearly 900 miles from Eugene OR (22) to the Big Sky Resort in Montana, arriving mid-day on June 30. We stopped overnight in Burns OR (23), at the Wal-Mart in Jerome ID (24), and at a combination RV Park and Laundromat in Island Park ID (25) (we're not sure which was the most important). As we'd be dry camping at Big Sky, we used the last stop to drain the holding tanks and fill the water tank. And after a week at Big Sky (26), we wound back down hill to West Yellowstone MT (27). You can read about the harp festival by clicking here.
Yellowstone National Park is one of our very favorite places, and we've been here several times. You might wonder, as we did, what there is yet to see when you've been here many times before. Even though we planned a longer stay this time than ever before, we still managed to leave before we'd had enough Yellowstone. This is an amazing, fascinating, evolving place.
In a half-dozen visits to Yellowstone over the past 18 years, we'd never really seen a grizzly bear, other than a little dot way out there that we were told was a bear. This trip we saw two grizzlies - on the same day! We saw geysers erupt that we hadn't seen go off before. We visited a whole section of the park we'd never explored before. And we found out that if you get up really early in the morning, you'll see things you won't usually see later in the day. Unless it's foggy. Which it was the day we got up really early.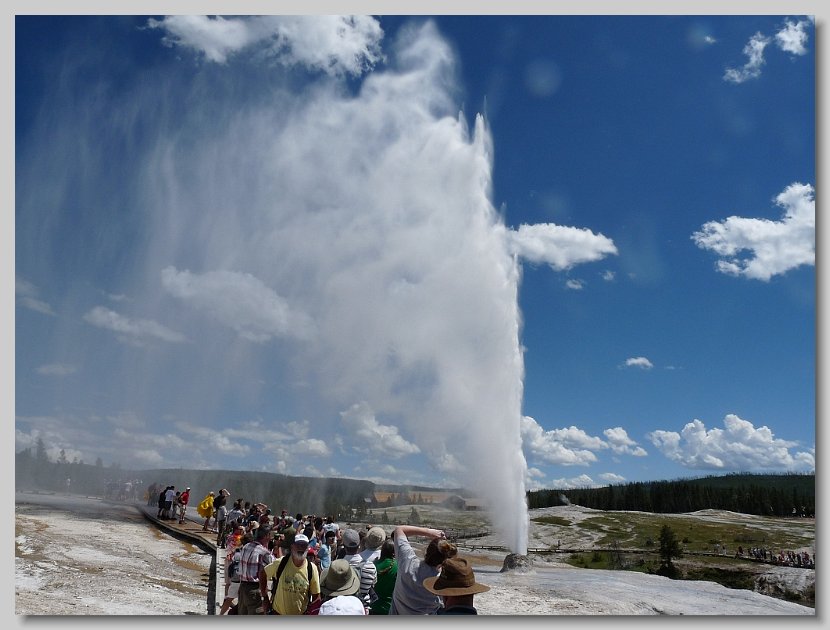 We revisited places we've grown to love, and found some new ones we like a lot (many of them involve food). Our base, as usual, was the Grizzly RV Park in West Yellowstone MT. It's a spendy place to stay, but it's just 3 blocks from the west entrance to the park, and all our satellite dishes work there. We always try to have at least one breakfast at the Running Bear Pancake House, and at least one dish of huckleberry ice cream at the 100-year old fountain at Eagle's Store. We think just about the best food inside the park is at the lunch counter at Hamilton's Store at the Old Faithful Geyser area. And we've discovered the Gusher Pizza and Sandwich shop in West Yellowstone makes some very good pizza indeed. (pause here for a snack)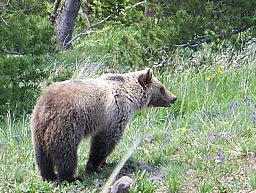 Our first grizzly sighting was a glimpse through the legs of about 5 rangers trying to keep the traffic moving. No chance to take a picture, or even to hang around and wait for a better view. But the second sighting later in the day made up for it. We were driving along when the car in front of us stopped short, so we did the same (seemed prudent). The passenger turned around and pointed her camera at us. About then, a grizzly came galloping down the hillside and across the road directly behind our car. And having cleared the road, the bear then stopped and posed for pictures - probably just sniffing the air, but very well posed. Pretty much made our day. Just a few hours before being charged by the grizzly, we'd stopped to take a picture of a black bear busily dismantling a tree trunk just a few feet off the road. Three bears in one day. Not bad at all.
The "big five" animal sightings at Yellowstone are elk, bison, bear, moose and wolf. Elk and bison sightings are easy, the rest not so much. We've now seen the first four over the 18 years we've been coming to the park. We did take some long-range pictures of a couple of wolfish-looking canines this visit, but we're pretty sure they're coyotes. And now that we've said that, we can't try to pass them off as wolves. Maybe next time we'll see a real wolf . . . .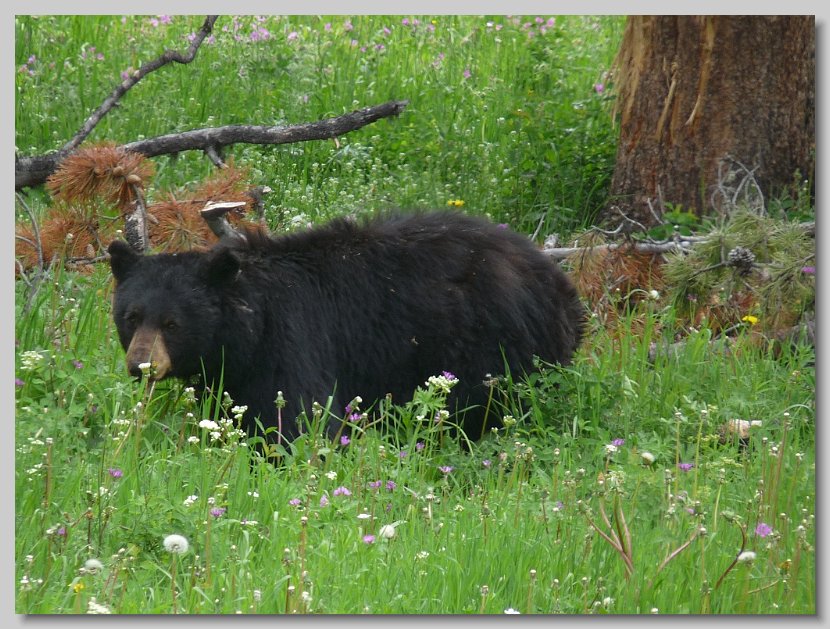 With a couple million visitors a year, the park service has a constant battle keeping everything in good shape. There are always roads under repair or reconstruction. But sometimes they actually finish some road work, and this visit we were able to use a newer road and visit the northeast section of the park. The Lamar Valley doesn't get as much traffic as some of the other sections of the park, which may be why we saw many bison and antelope there (as well as our black bear). We also stopped at some spectacular scenic view points that triggered Judy's acrophobia.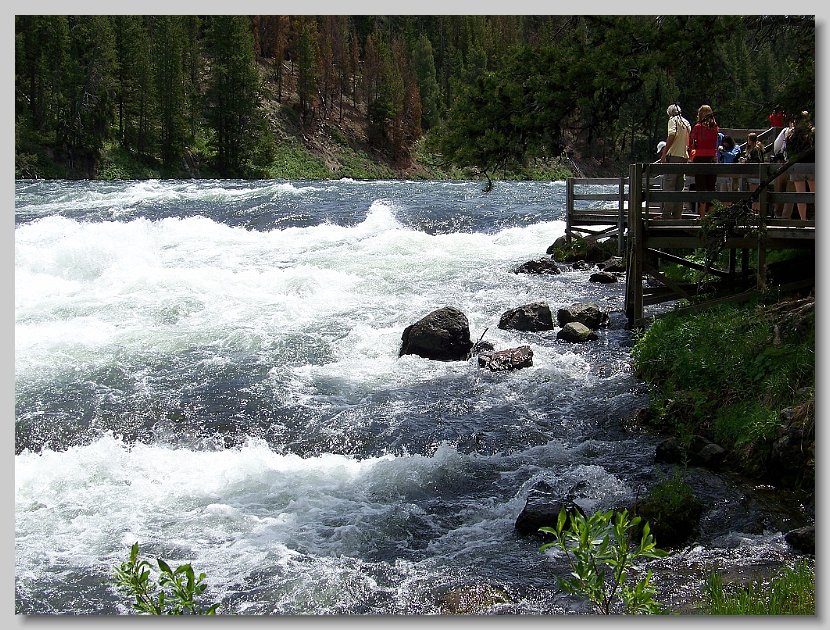 July is about as late in the year as we've been to Yellowstone, so we were unprepared for all the water. Seemed like all the streams and rivers were very full, which meant the waterfalls and rapids were even more spectacular. We've been comparing pictures we took this year with some we took in prior years, and the higher water levels are very apparent. More water makes it easier for the steelhead moving upstream to spawn, but not as easy for the pelicans looking for a trout dinner.
When it comes to Yellowstone, words just don't do it justice. We'll let our pictures speak for us. We took over 5,000 pictures in 9 days. We didn't believe it either. Click here to see the 139 surviving images.
We also have slideshows from our last two Yellowstone visits. If you're really interested, check out 2007 and 2006. And we'll completely understand if you don't.