Apr 1 - Apr 30 - Northward to Oregon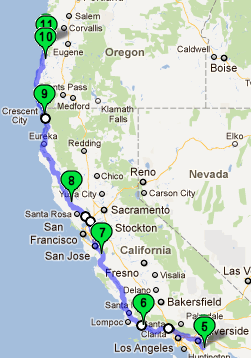 April was a very busy month for us, as we packed up and headed north to Oregon. It was not without a few bumps in the road, but we ended the month alive and well and mostly dry.
From the first through Easter, we remained at the 1000 Trails Wilderness Lake Resort (5) in Menifee CA, where we monitored the brooding of the hybrid goose (see the end of this report) which had set up a nursery behind our RV. The park was full for Easter Weekend, with lots of kids running around. But on Monday 4/9 we hooked up, stopped to top off our propane supply, and found we had no brakes on the motorhome. Judy went on ahead to Menifee Tire, alerted them Al was on the way, and after a few very careful miles the RV was jacked up, where a leaking disk caliper was discovered. About 5 hours later, during which the wrong part was delivered, followed by the correct one, we hit the road, confident of our stopping abilities.
Our days heading up the coast were all under 250 miles, and our stops all for just one night, making for an easy trip that took most of the week. On 4/9, we spent the night at the 1000 Trails Rancho Oso park (6) near Santa Barbara. There's no cell service at Rancho Oso, but we were surprised to get a weak Verizon internet signal. We also appreciated the wildlife - including deer, quail, wild turkeys, squirrels and lots of birds.
On 4/10, we drove north to Morgan Hill (7) and another 1000 Trails park, stopping for gas in Gilroy at the Costco, where fuel was under $4.00 a gallon for the first time all winter. There were many wild turkeys in the RV park, and as it was courting season for turkeys, the toms were absolutely spectacular.
On 4/11, we bypassed the Bay Area, missed a turn in Napa and had an unplanned but enjoyable tour of the wine country before arriving at the 1000 Trails Russian River Park (8) near Cloverdale. While parked, we found out it was time to sign papers to close on selling our house, and made arrangements to do that the next morning.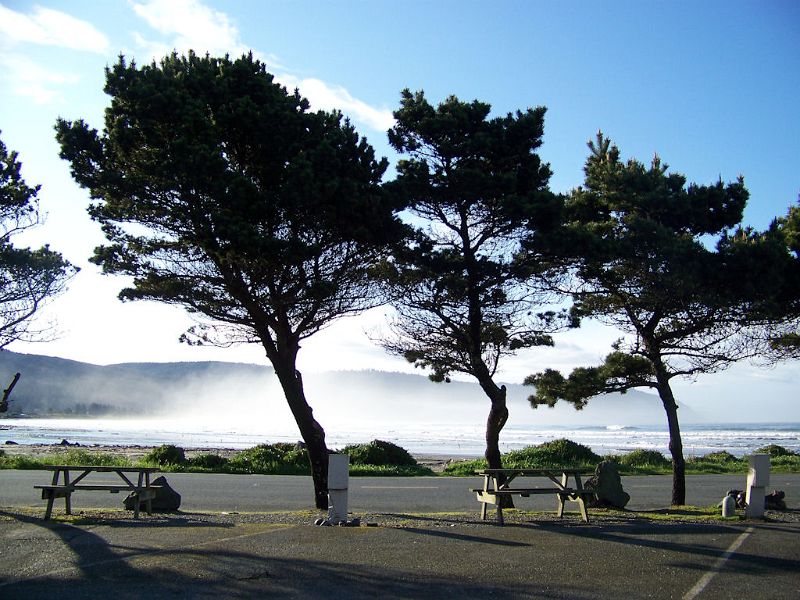 On 4/12, we headed north again, stopping in the Walmart parking lot in Ukiah, where we met a very personable Notary Public and spent half an hour signing all kinds of papers. We then continued on, encountering a really nasty rainstorm mixed with a little slushy hail, before pulling into the Harbor Anchorage RV Park in Crescent City (9), where we spent the evening sheltered from one of those marvelously violent coastal storms. But the morning dawned bright and sunny, and as we were parked just a few yards from the ocean, the surf was absolutely beautiful.
And on Friday 4/13 we headed north into Oregon for the first time in 18 months. The Oregon Road Report said there were at least 7 landslides affecting traffic on US-101 the first 40 miles into Oregon, but we were only briefly stopped for one of them, and arrived at the Osprey Point RV Resort in Lakeside OR (10) around lunch time. We spent the afternoon doing some tax-free shopping, and started connecting with friends.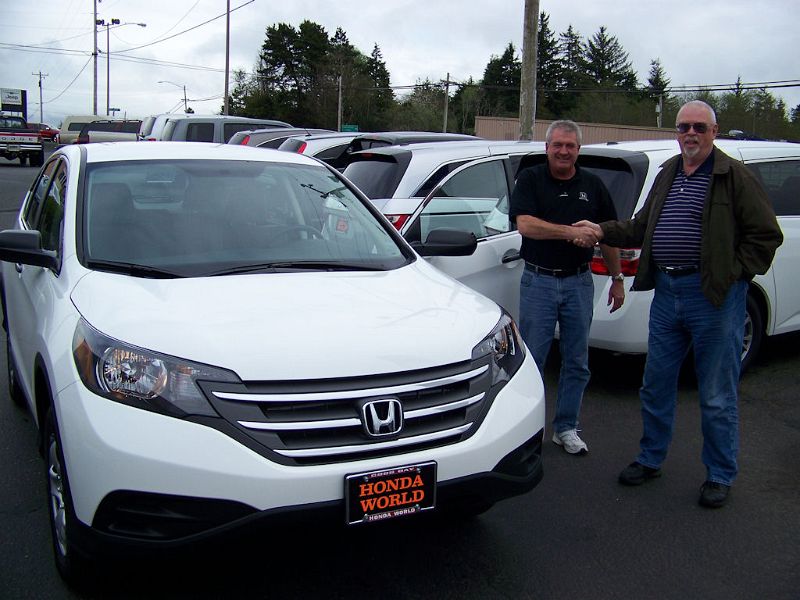 On Tuesday 4/17, our house sale finally closed, and we made the rounds paying off the final electric and water bills and touching base with realtors past and present. On Wed 4/18 we moved to the 1000 Trails South Jetty Resort (11) at Florence, and celebrated briefly the transient appearance of the house money in our checkbook. Also on the 18th, we set out to replace our PT Cruiser, and ended the day with a new 2012 Honda CR-V. The next day, we took the CR-V to Florence RV Service and began the process of outfitting it to be towed. That process was continuing as the month ended and the necessary parts came trickling in.
On Apr 30, we both had our medical checkups, and were pronounced alive and likely to stay that way for the forseeable future.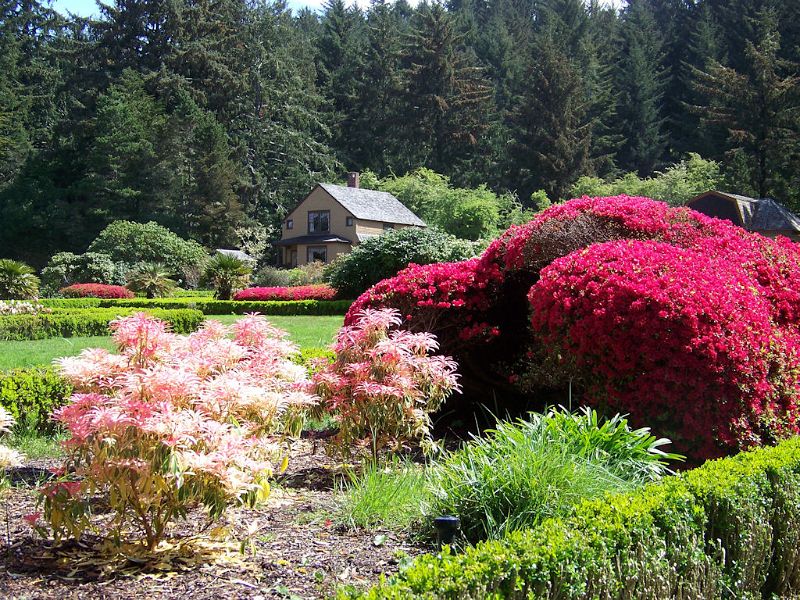 In amongst all of that, we managed to attend a memorial service for our friend John Smart, who had succumbed to liver cancer as we were heading north. We had lunch (twice) with Wes & Vendy Lockard, visited with Judy's sister Joanna in Eugene and caught up with several other friends. Judy attended a meeting of her home chapter of PEO, and visited with her harping buddy Ruth Boddy, among others. We did some sightseeing. And we actually attended our "home" church, United Presbyterian in Reedsport, several times, and where we saw many familiar faces.
Other than the new car, we'd been saving up some relatively major purchases until we got to Oregon, and we've been whittling away at those . . . spending money is slightly more agreeable when there's no sales tax. Among other things, we're having some major maintenance done on the RV.
We ended the month in Florence OR, prepared to stay until all the parts come in for towing the Honda. And then we'll resume our leisurely wander up the coast.
Only about 36 pictures in our slide show this time. Check them out here.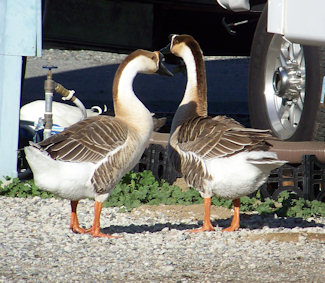 An update on the "mutant" or "hybrid" geese at Wilderness Lakes resort. We'd pretty well decided they had to be goose-swan hybrids. After much more research and some lucky Googling, we've learned they are actually the common Chinese or African Goose, which was domesticated centuries ago in China, and was introduced to the Americas in the late 1800s. They are favored for their size (more meat) and egg production - upwards of 50 eggs per goose per laying season is not uncommon. The ancestry of these domesticated geese is the Mongolian Swan-Goose, a slightly smaller wild goose with similar markings. And it wasn't in our bird books because (a) it's a domesticated, not wild, bird and (b) the wild variant is not from anywhere around North America. So there.