May 1-30 - On the Oregon Coast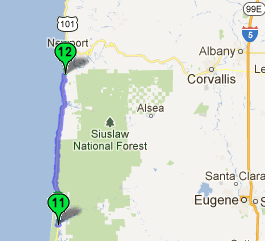 We started the month at the 1000 Trails South Jetty Preserve (11) near Florence, finishing up the work needed to get the new Honda towable behind the motorhome. And as usually happens, the necessary parts were trickling in and the work continued right up to our last day.
While we waited, we found a few things to keep us amused. For openers, it rained quite a lot, so we didn't go out much those days. We squeezed in a delightful dinner with Wes and Vendy Lockard, Judy managed to get together with harping buddy Ruth Boddy one more time, and attended another meeting of her PEO chapter - that's two in one year! One day, we started out for Eugene when one of the sunvisors in the Honda detached itself from the roof. So we turned around and headed for Coos Bay, where Honda World determined the original was defective, and ordered us a replacement. It too came in on our last day. We had a buffet dinner at the Three Rivers Casino one night, and Al managed to recoup most of the cost of dinner at the slots while Judy explored the rest room.
You may wonder why we chose to buy a Honda CR-V. First, it's automatic transmission and towable behind a motorhome without any modifications other than the tow bar. Second, Al can fit into it. Third, as we expect it will probably be the last car we buy, we wanted a vehicle that could carry a couple of mobility scooters, which we expect we'll need (or at least appreciate) in the not-too-distant future. Fourth, we wanted a car that was as as small and light-weight as possible to get better gas mileage and tow more easily. Turns out there were just two cars that met our crtiteria. The CR-V was one, and the Ford Fusion Hybrid was the other. Unfortunately, the highly-rated hybrid was so new that nobody had any inventory to sell, and the non-hybrid model couldn't be towed. That directed us toward the 2012 CR-V, which was in only slightly better supply, being only slightly less new. Consumer Reports also gave it higher marks than the non-hybrid Ford, but noted that because of demand, the average sale price was running about $600 over MSRP. We started looking at the nearest Honda dealer, and found pretty much what we wanted at Honda World in Coos Bay. So we bought it, paying slightly less than MSRP. The CR-V is a very popular towable vehicle among other motorhomers - we see a lot of the older models in RV parks as we travel.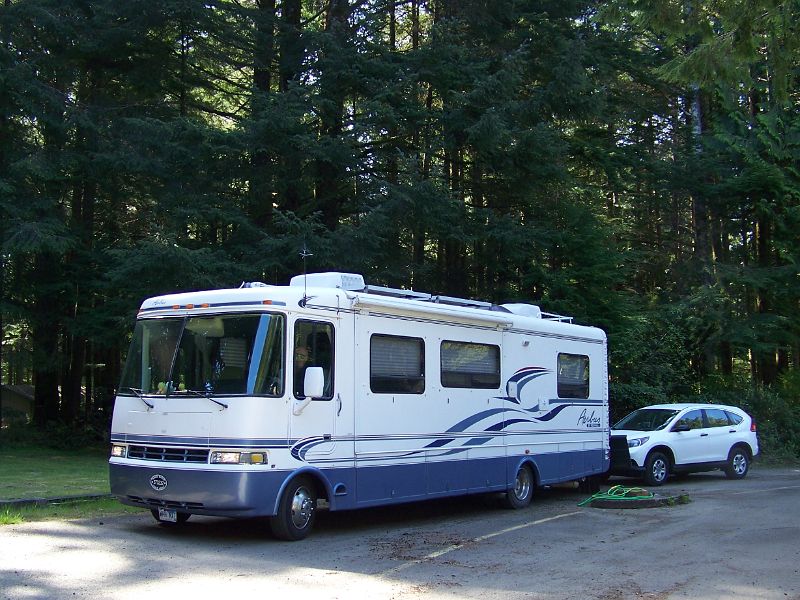 On May 9, we hooked up our new car for the first time and headed out, Judy driving behind in the PT Cruiser. Our first stop was back at Florence RV Service to take a look at a possible solution to mounting our bike rack on the newly installed hitch on the Honda. We wanted a rack that could be moved out of the way to open the rear hatch, even with the bikes mounted. Carl Halvorson, who has done most of the work on our rig the last month, had built just such a device to mount a spare tire on the rear of an off-road Jeep, and he thought he could adapt it to hold a bike rack. So we stopped to check it out, and so he could figure out how to modify it. Turns out it was exactly what we were after. So he said he'd get to work on it, and would call when it was done. And as we were still waiting on one more piece of our towing gear - a shield to better protect the car while towing - we knew we'd be seeing Carl again before long.
We then headed up US 101 about 45 miles to the 1000 Trails Whaler's Rest Preserve (12), just south of Newport. We first joined 1000 Trails at Whaler's Rest back in 2006, so it's kind of a homecoming. We remembered joining here, but it's doubtful anybody else around the resort remembered us.
We had plans to resume our touristing lifestyle in Newport, but it was weather that mostly got in the way. After church on Mothers Day, we went to Georgie's Beachside Grille (a new-to-us restaurant) for a delightful lunch. And after a few phone calls later in the day, made arrangements for Ira and Anna to come visit from Portland and take the PT Cruiser back home with them.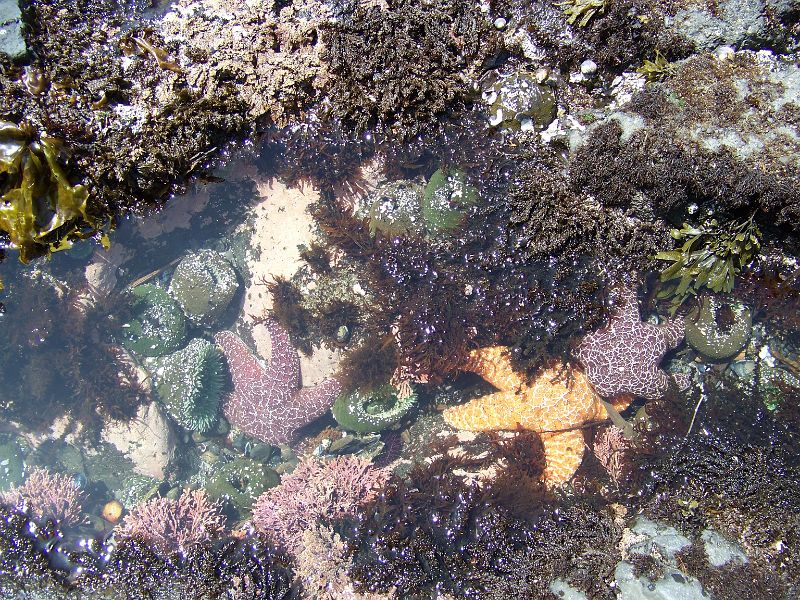 We picked a low tide on one of the non-rainy days to visit the tide pools at the Yaquina Head Lighthouse site. The "beach" there is covered in basalt cobbles - lava that hit the water and immediately solidified into nodules. Over time, the surf wore down the edges to make these rounded cobbles. Walking on them is like walking on marbles, especially challenging when going up or down a slope. And the stones, being almost like glass, make an almost musical sound as you crunch through them. Must be sort of what an earthworm hears as we walk aross the lawn. Anyhow, the tide pools were spectacular, loaded with colorful sea stars and anemonies and mussels. There were signs warning us to stay away from any beached seal pups, but we saw only one, on rocks well off shore.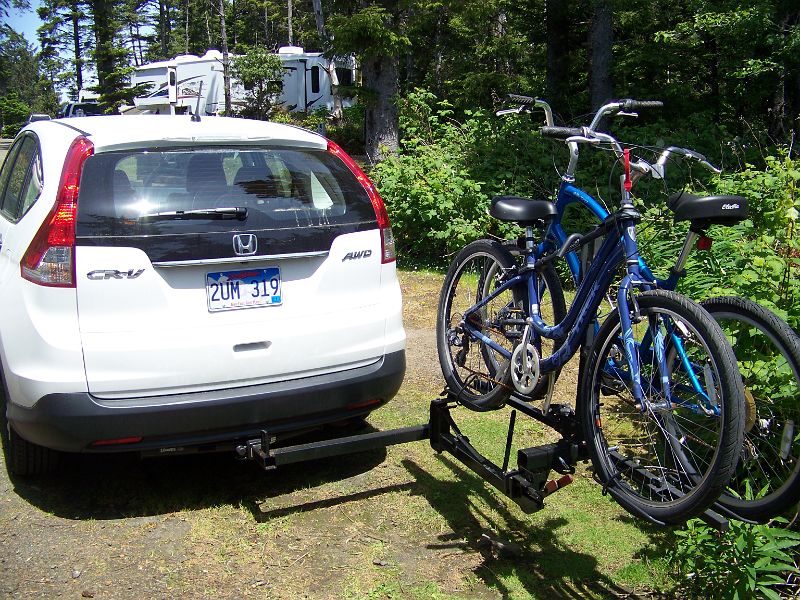 Carl came up from Florence to install our remaining tow shield, and to deliver our new-to-us bike rack. Actually, what Carl had built was a mechanism to swing the hitch out of the way of the lift gate on the back of the Honda. To that, we mounted our existing bike rack. The combination is perfect. With the bikes loaded, we can swing them out of the way to get into the back of the car. When the bikes aren't on the rack, the rack itself folds down, and we can get into the back of the car. It's really cool. And we wound up with a custom-built swinging bike rack for a fraction of the cost of a commercially available unit.
On May 19, Ira & Anna arrived for a too-short weekend. We met up at a local restaurant for lunch, and simultaneously met with a gal from Portland who was buying one of our old bike racks, which we'd posted on Craig's List. After lunch, we went to the Oregon Coast Aquarium, where a friend of Ira's had arranged for passes for the four of us. The OCA is always fun, although there was some significant construction underway as new exhibits were being finalized before the Memorial Day weekend.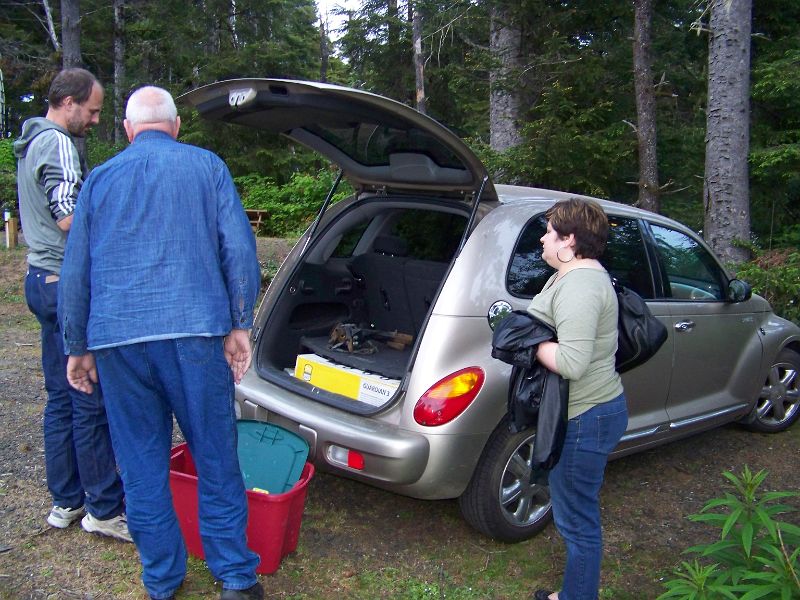 After the aquarium, we returned to the RV park, where the kids checked into the rental trailer we'd reserved for them. We did the necessary paperwork and turned over the PT Cruiser, and then headed for dinner at the aforementioned Georgie's, which has become a new favorite place in Newport for a special meal. We heartily recommend it. We caught up on the new parts of the kids' life, including Anna's new job as an "event coordinator" for the Kaiser-Permanente Health Group.
Next day, after breakfast, we went to the Hatfield Marine Science Center, headquarters of the Oregon State University marine research program. Their displays are an excellent complement to the aquarium, with a more educational bent. Plus, the OSU octopus is more viewable than the one at the aquarium. And then, as the rain resumed, we sent the kids and their cars off to Portland. We'll hopefully see them again later in the year.
We had intentions of visiting the Yaquina Pacific Railroad Train Museum in Toldeo OR. Didn't happen. We had intentions of riding up to Tillamook for cheese and/or ice cream. Didn't happen. Sometimes life gets in the way of living. Oh well . . .
On May 30, we hooked up again and drove about 125 miles north to the 1000 Trails Seaside Resort, where we'll spend 3 weeks visiting friends and relatives and running more errands. And hopefully get back to being tourists.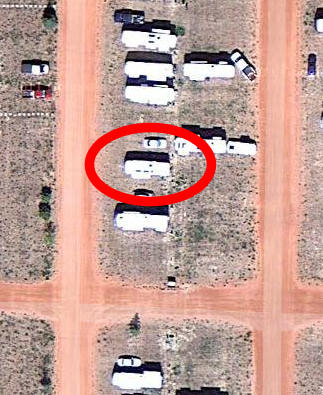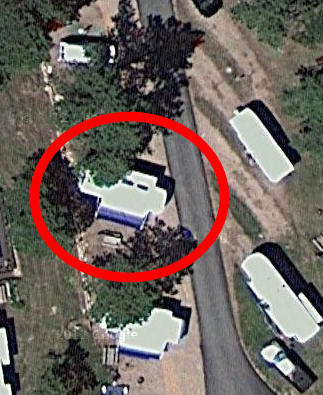 Curious discovery section: While checking out something else, we noticed that Google has been updating the aerial images used for Google Maps and Google Earth, so just for fun we checked out places we'd been parked last year. We found two instances where our RV is shown in the new Google imagery - once in Rapid City SD (left) on July 15 2011 and once in Gillette WY (right) on Sept 4 2011. They took better pictures in Rapid City - you can actually see that our awning is out. Kinda cool, kinda pointless, but kinda satisfying at the same time. Doesn't take much to amuse some of us old folks.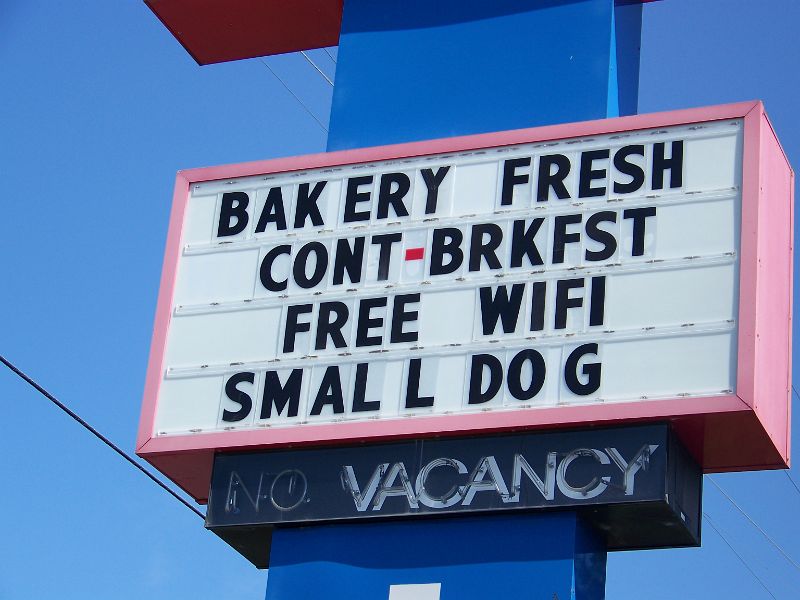 Silly signs department: We're always amused when we see a sign that conveys something the person probably never intended when making the sign. And sometimes, funny signs are intentionally (or unintentionally) created that tickle our funny bones. Unfortunately, we don't often get pictures. We found 3 goodies in Newport OR. You'll have to check out our slideshow to see them all.
The 56 pictures in our slide show this time are a real mixed bag. Check them out here.