May 30 - June 20 - Seaside OR Area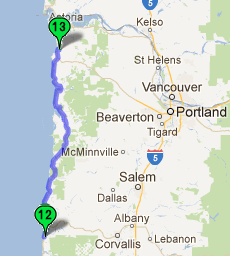 If we had to pick one place to spend an entire summer, Oregon's north coast would probably be high on the short list. Based at the 1000 Trails Seaside Resort, we're close to Astoria (where Judy grew up), close to the ocean, close to friends and family, with all the necessary support facilities nearby (Costco, Fred Meyer, Safeway and some good restaurants and churches). But as we don't yet have to pick just one place, we'll settle for a few weeks. Now if we could just find some summer . . . .
From the Whalers Rest RV Resort (12) south of Newport, it's an easy (and scenic) 124 miles to the 1000 Trails Seaside Resort (13), where we parked for 3 weeks. Of those 21 days, there was measurable rain on 14 days. In between the rain showers, some sunny days and some not-so-sunny days. On rainy days, we didn't do much. Seaside was our last chance to make major purchases without sales tax, so Al took the opportunity to get a fresh hearing test and new hearing aids. His original aids from 2005 were pretty much obsolete and not doing anything to help. We patronized the hearing center at the nearby Costco, where prices are very low (less than half the old hearing aids). After tests and fittings, the new hearing aids were judged good, and money changed hands.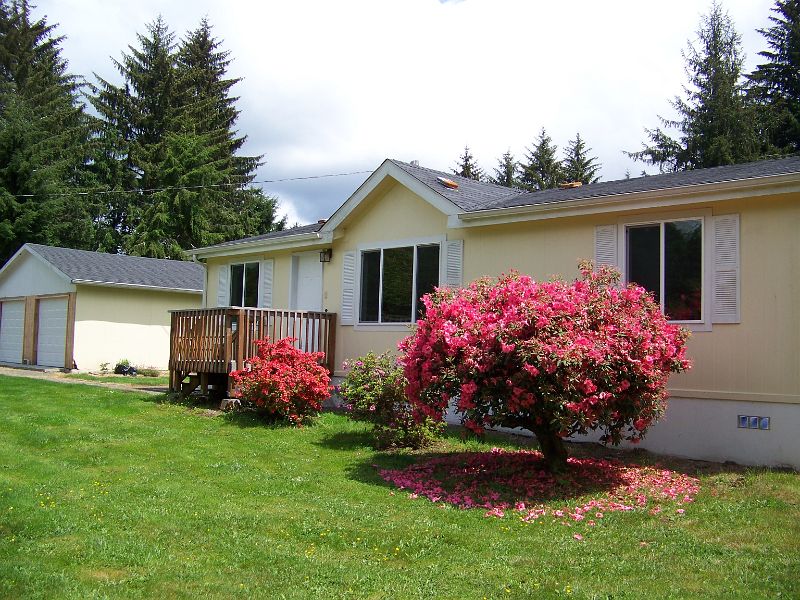 Judy grew up in the Astoria area, and her brother John still lives there, so he was tops on our check-in list. John is making preparations to retire around the end of this year, and to that end had just bought a retirement home across the river in Washington State. We arranged to meet John for lunch after church on our first Sunday, and we then received a tour of his new digs. John's giving himself several months to get moved and has already started on his project list at the new place.
John's house is very near the home of our friends Chuck and Jan Wolfe, and Jan came roaring up on her four wheeler while we were chatting with John. And other neighbors were busy clearing brush from the creekbed that wraps around John's lot. Looks like there will be lots of nice neighbors around.
Chuck Wolfe was recuperating from eye surgery, but we still had a most enjoyable visit. Chuck and Jan are very active people, and it's tough for Chuck to be relatively immobile while his eye heals. But he had a rather ingenious rig to be immobile in - a massage chair that supports his head in the proper face-down position, outfitted with mirrors that perfectly frame the TV screen. If we ever need to recover from surgery, we'll retain Chuck as a consultant. He does it with style.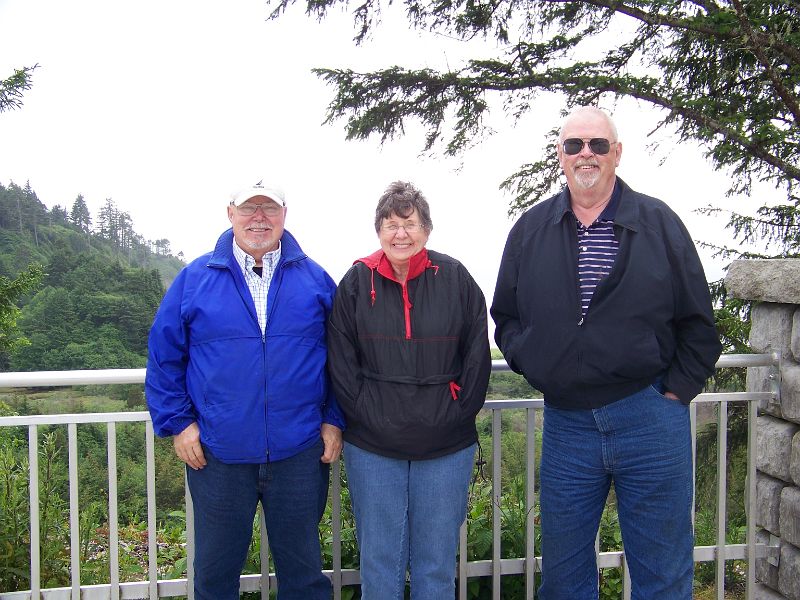 We were pleasantly surprised one day by a knock on the door - it was Judy's cousin Sara Barton. Sara and Jerry were setting up their RV across the street from ours. We had most of the week together. Both now retired, Sara & Jerry are seriously considering transitioning to a life as full-time RVers, so they had lots of questions. We did our best to provide objective answers, and they did their best to humiliate us on the miniature golf course. We also managed another tour of John's house; visited with Sara's niece (and Judy's second-cousin) Nicole Landwehr, who operates a financial planning service in Seaside; and discovered a brand new BBQ restaurant - the Grey Whale BBQ - that serves marvelous food. Sara and Judy particularly enjoyed a drive through the countryside where they both grew up, but both were less than enchanted by a visit to the Seaside Aquarium, which had been a favorite place when they were kids. It wasn't as neat as they remembered, even though it was pretty much exactly as they remembered it.
On some of those dry days, we visited the seashore at Fort Stevens State Park, and also the reconstructed Fort Clatsop, where Lewis and Clark spent the winter of 1804-5. We made a quick trip to Troutdale, on the east side of Portland, to make some adjustments to our membership at the Neskowin Creek RV Park near Lincoln City OR. We had a wonderful dinner with John at the Bigfoot Steakhouse, one of his favorites, and one last meal at the Grey Whale BBQ. We hope the Grey Whale survives - the folks who opened it are complete novices, and the learning curve is pretty steep. But the food is outstanding. Hopefully, that'll be enough to get them established. We'll find out when we return, probably in the fall.
As we drove to Seaside, we drove over something that made a horrific noise - Al thought maybe we'd run over a loose manhole cover. While setting up in Seaside, we noticed a big chunk missing from one of the RV's wheel covers. Must have been a big hit - those things are stainless steel. Anyway, took a while to find the proper replacement, and we wound up odering one from the factory. Spendy things, those chrome-plated stainless steel RV wheel covers. But probably a lot less expensive than other things that could have been hit.
On June 20, we headed north into new (to us) territory - Washington's Olympic Penninsula. That's for our next report.
Only about 25 pictures in our slide show this time. Check them out here.