June 20 - July 11 - Washington's North Beach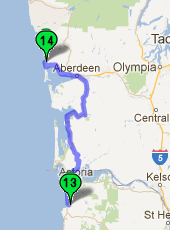 It's always good when we can explore new territory, and we began our summer doing just that. On June 20 - the first day of Summer - we hooked up and left Seaside OR (13), headed for the 1000 Trails Oceana Resort north of Ocean City WA (14). We didn't really know what to expect - the reviews of most of the RV parks in the area weren't particularly flattering. But we knew that our reasons for staying in a park aren't the same as most other folks - we're looking for a base from which to explore, not necessarily a destination resort. As RV parks go, this one is pretty bare bones, but it suited us well.
They call it the "North Beach", and it's a wide, flat hard sand beach that goes on forever. Even at high tide, the beach is about a quarter-mile wide. You can drive on much of it, and lots of people do. Beach bike rides and horseback riding are also popular. And, of course, clamming. Ocean Shores anchors the southern end of North Beach - it's on a peninsula that forms the northern lip of Gray's Harbor. A planned community, Ocean Shores was developed starting in 1950 and incorporated in 1960. It's a beach town with lots of hotels, taffy shops and bike and moped rental stores. Back in the '50s, Pat Boone lived here and hosted a celebrity golf tournament. It took us a week or so to warm up to the town, but once we did, we decided we like it.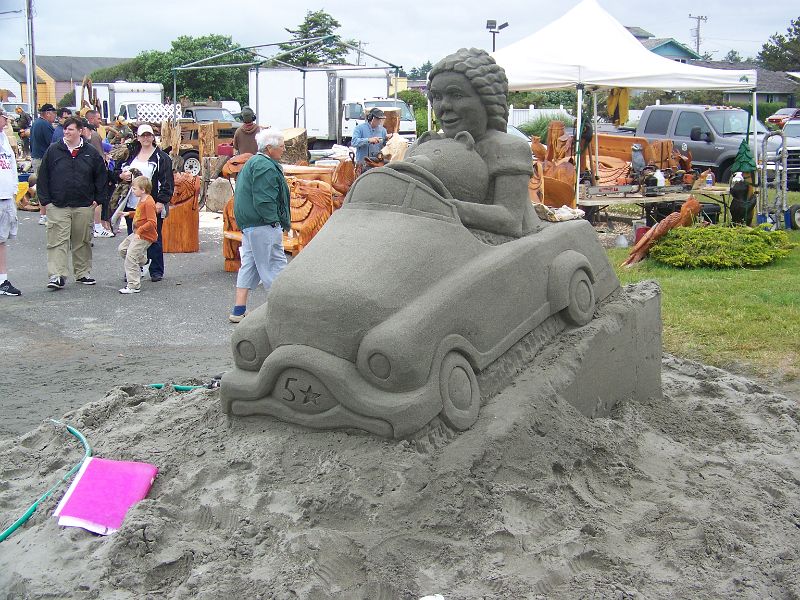 Ocean Shores hosted "Sandcastles and Sawdust" the last weekend in June - a three-day event featuring chainsaw sculpturing and sandcastle building. And while it rained some each day, it was dry enough to take it all in without getting too damp. There were some very impressive chainsaw sculptures on display, and the sandcastles were spectacular. There were three "master class" teams, four "novice class" teams, and several kids teams. And we took lots of pictures.
There are lots of places to eat in Ocean Shores. We were repeat visitors at Bennett's Fish Shack, where the fish and chips were outstanding. We kept intending to go back for one of their spectacular-looking burgers, but somehow always wound up ordering the fish and chips. Our other repeat stop was Galway Bay Irish Pub and Restaurant. And again we got into a rut and only had fish and chips - also outstanding. Plus their soda bread is to die for.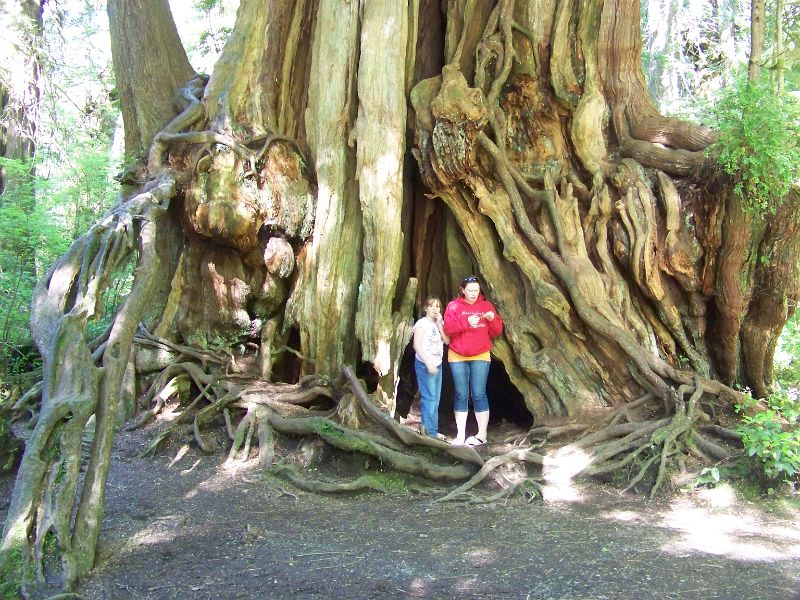 It rained quite a bit while we were here, but we managed two day trips to the Olympic National Park, where we poked around in some of the few temperate zone rain forests in the world. We saw some very large trees - some of them the world's biggest of their species. We saw waterfalls, and lots and lots of ferns. We tested our stamina on some of the so-called "improved" trails. We took lots of pictures.
We had our bikes serviced to remove 6 months of winter and spring rust, so the shifters would shift and the sprockets would sprock. And on dry days, we got to ride around the RV park.
July 4th brought Fire On The Water, a different kind of fireworks event. It's legal for private citizens to shoot off their own pyrotechnics on the beach July 2-3-4, and lots of folks did. But July 4 was the big day, with lots of roll-your-own displays and two professional shows. And we walked to the beach at the RV park, set up our chairs, and enjoyed it all, although some of it was a bit distant. And when it was all over, we walked back home. No crowds, no traffic.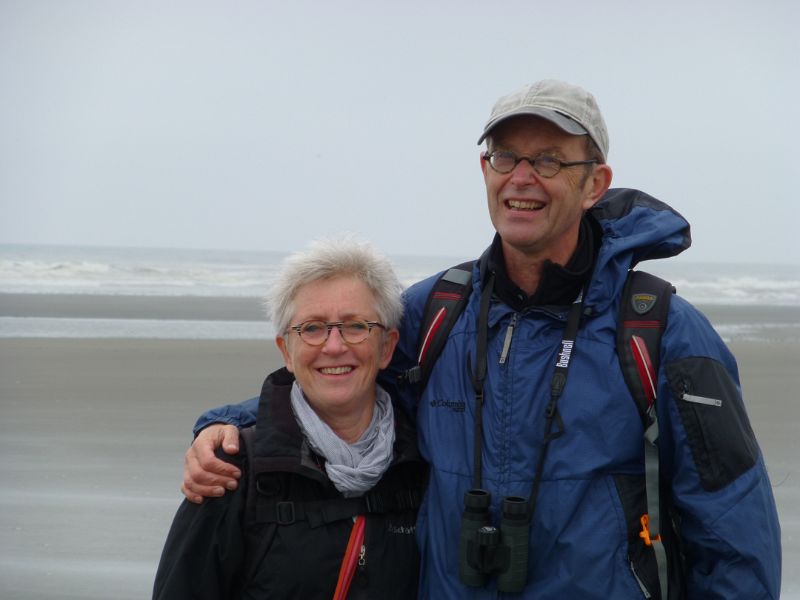 A few days before we left, we met new friends Hetty and Edwin Kroese from Holland, who set up their tent next to our RV. They're on a three-week driving/camping tour of the US Northwest, with visits to relatives in Canada added at either end. Having never encountered the "tiger teeth" that block incoming traffic from the park exit, they came in the wrong way and lost one tire on their car. We helped them get a new one at the Les Schwab store in Aberdeen. The car was borrowed from Hetty's brother in Chilliwack BC - along with everything else for their trip - tent, sleeping bags, air mattresses, the works. They're both in education - Hetty develops nutritional curricula for grade schoolers, while Edwin manages several economic programs for a university. They're traveling with no fixed agenda, going places folks like us recommend. Great folks having a grand adventure. We felt honored to have shared part of their time.
While visiting the museum in Aberdeen WA, we noticed a community playhouse across the street. We bought tickets to their production of "Catfish Moon". Interesting play set in a southern bayou, but played against scenery that was totally Pacific Northwest. One of the actors used a passable southern accent, while the others didn't even try. But still, an enjoyable play with a great surprise finish. Local theater can be a lot of fun.
In between the major events and rain showers, we made a couple shopping trips to nearby Aberdeen, toured some local museums, wandered the beach looking for and at tsunami debris, and generally enjoyed ourselves. And took more pictures, including a very nice sunset.
On July 11, we hooked up and headed north, skirting the Olympic National Park, heading for Sequim WA (pronounced "skwim"). That's for our next report.
There are about 90 pictures in our slide show this time. Check them out here.