July 11-25 - The Sequim Area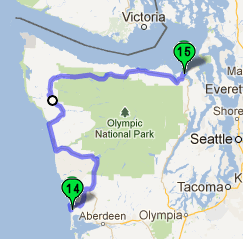 On July 11, we hooked up and headed north from Ocean City (14), skirting the Olympic National Park, heading for Sequim WA (pronounced "skwim") and the Diamond Point RV Resort (15) for a two week visit. On route we passed through the curiously-named town of Humptulips and the vampire-friendly town of Forks. We survived both.
Located in the "rain shadow" of the Olympic Mountains, Sequim gets about 16 inches of annual precipitation, compared to upwards of 12 ft in the rain forests on the ocean side. We finally found summer in Sequim - first shorts weather we'd had since leaving California. Nevertheless, our first weekend we had a half-inch of rain from one of the longest thunderstorms we've ever experienced. The thunder rolled almost non-stop for over 14 hours - with one lightning strike close enough that it tripped a circuit breaker in the RV.
Sequim is the "Lavender Capital of North America" - there are over 20 lavender farms in the area. It all started as a kind of tax revolt. About 25 years ago, people from the Seattle area discovered the relatively balmy climate of the Sequim area and began buying mini-farms - around 10 acres each. About 20 years ago, the county fathers started looking at those mini-farms paying agricultural tax rates but not being worked as farms, and proposed taxing them as residential properties. The mini-farm owners started looking at ways to make farming on those small farms practical. Somebody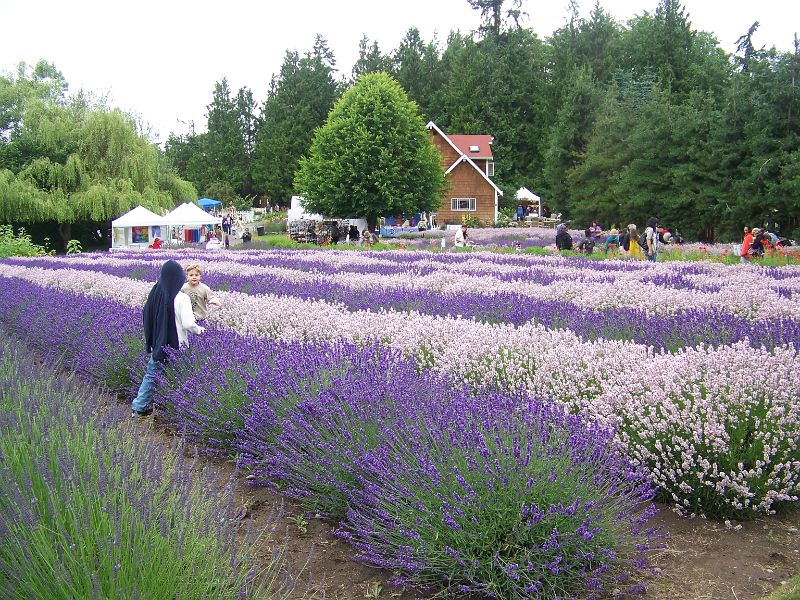 suggested the climate was almost identical to the Provence area of France, where they grow all kinds of neat things on smallish plots of ground. Some of the "farmers" went to France and came back with the idea to start lavender farms. They set out to pay less taxes, and wound up starting an industry. And probably working harder than they'd planned on when they moved here from Seattle. Besides lavender, the Sequim-Dungeness area is noted for Dungeness Crab and dairy farms. We like Sequim. We'll have to come back.
We didn't know there was a Lavender Faire scheduled while we were in Sequim, and even though it rained some each of the three days, we had a chance to tour several lavender farms and were exposed to many things lavender - from soap to candles to ice cream to salad dressing to bbq sauce to . . . well, you get the idea. The visitor base was overwhelmingly female, as would probably be expected. And the auxiliary arts and crafts vendors set up at each farm and at a central faire plaza were all juried, so the quality and selection was very impressive.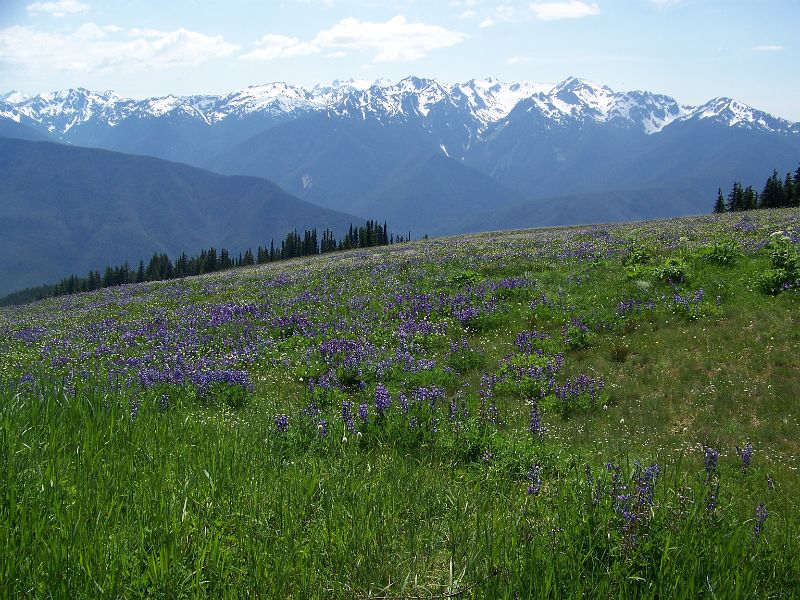 We took one day trip into Olympic National Park, visiting Hurricane Ridge, a most beautiful scenic area with spectacular views of the Olympic Mountains and what remains of their glaciers. On a clear day, we could have seen into Victoria BC, but it wasn't that clear. But the alpine meadows and wildflowers and relatively unafraid deer were very nice.
We took another day trip to the community of Neah Bay, the most northwesterly town in the lower 48. It's in the reservation of the Makah Indian Tribe, one of the few tribes that was not relocated from their ancestral lands by the white man. The Makah have a most wonderful museum contining relics unearthed from a 500+ year old village that was rediscovered and excavated starting about 40 years ago. The village had been buried in a mudslide, and the mud pretty well sealed everything up, so much was preserved with minimal decay. Some of the items dug out and carbon dated show that Native Americans in the Northwest were using fishing nets a hundred or more years before first contact with the white man. That became a legal precident in returning to the tribe the right to fish with nets. We couldn't take pictures in the museum, and there wasn't much picture worthy in the town, bet we did see a couple of bald eagles along the water. Even though they're no longer on the endangered species list and are becoming quite common, it's still special to see a baldie in the wild.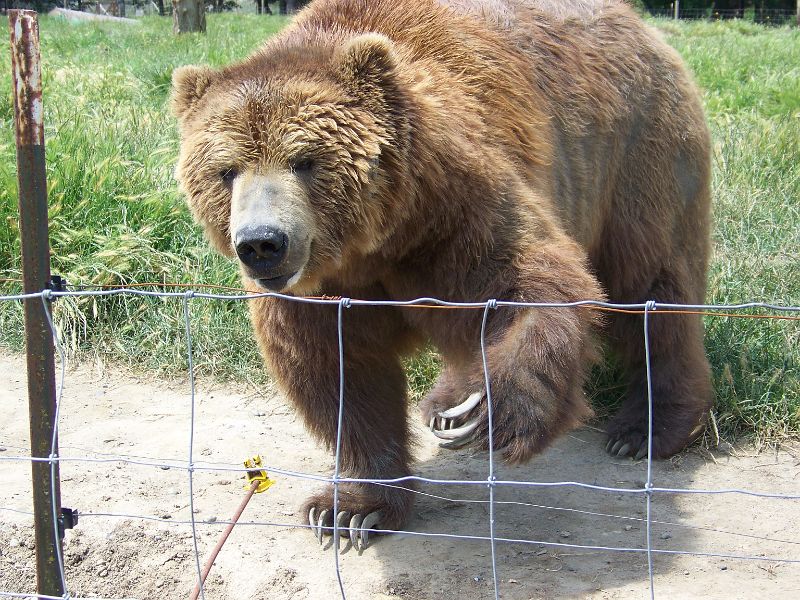 We toured the Olympic Wild Game Farm, a drive-through wild animal park. Back in the days when Disney was making all those marvelous nature documentaries that we now know were completely staged, the animals all came from the Olympic Game Farm. In fact, many scenes were filmed at the farm. All the animals in the farm today are descendants of those Disney stars, but they're still largely tame. The bears sit on their backsides and wave at you for treats. Two magnificent Arctic Wolves were being paraded on leash - very personable wolves that were used in publicity pictures for the "Twilight" vampire movie series. It was a low-key, fun day, although we were mobbed a couple of times by yaks. Not a lot of people can say that.
First Presbyterian Church in nearby Port Townsend is the third-oldest Presbyterian church in Washington State, dating to 1873. The pipe organ in the current building dates to 1887, and is the oldest pipe organ in continuous use in the northwest. It's a very friendly church. Port Townsend is a charming Victorian port town, and worthy of more visits to tour and see.
A couple of interesting things about Sequim. They are known for their resident elk herd, which wanders about the area. And the elk are apparently predictable enough in their wanderings that a few members of the herd have been fitted with radio collars that set off flashing lights when they near the "Elk Crossing" signs on the highway, so you'll be more aware. What a sensible thing! And the local Indian tribe is named the Jamestown S'Kallum Tribe. We wondered about the "Jamestown" part, so we looked it up. Back when other tribes were being relocated in the 1870's, the chief of one of the tribes - his English name was Lord James Balch - came up with the idea of buying some land to preserve their community. Money was raised, and $500 was paid for 210 acres, which became Jamestown, after the chief. That's one smart way to use the system to preserve their tribe. Shortly after, the tribe adoped the name Jamestown S'Kallum, which endures today. The 210 acres has grown considerably and is now a rather successful venture - casino, art galleries, and many other tribe-owned businesses.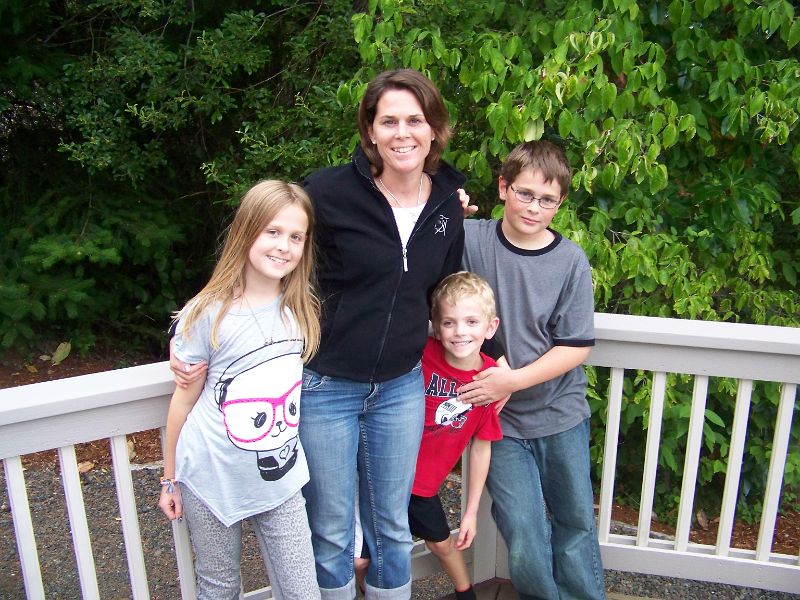 We liked the Sequim area, and we'll have to go back. There's a lot more to see.
Niece Lisa was in the process of moving her family from France, where she's spent most of the last 10 or so years, to Connecticut. Hubby Patrick has been transferred by the UN from Geneva to New York City. While waiting for the furniture to arrive (by slow boat), she brought the kids to Washington for a visit with her family. As we hadn't seen Lisa or the kids for several years, we took advantage of the proximity - just 80 miles - and drove down for the day. Very nice gathering at Jan & Denny's place in Longbranch. We'll be back in Longbranch in August to house-sit for a month or so while Jan & Denny get away on their sailboat. More about that after it happens.
On July 25, we tried something new - we rolled the motorhome and dinghy onto a ferry boat for the 1/2 hour crossing from Port Townsend to Whidby Island - cost us over $70, but saved us about 125 miles of driving through Seattle traffic. It was less challenging than we expected. On the ferry, we met an interesting couple who are full-time house-sitters, and have worked all over the world. They had just resigned a one-year contract in Sequim after 7 months, because they'd had enough of the six full-size undisciplined standard poodles they were also sitting. Can't say as we blame them. And once the ferry parked, we headed north, almost into Canada. That's for our next report.
About 85 pictures in our slide show this time. Check them out here.