July 25 - Aug 12 - Birch Bay WA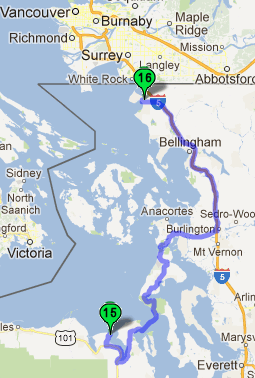 We've spent much of this summer trying to visit places we've never been before, and extreme northwestern Washington state fits that description. On July 25, we hooked up at the RV park at Sequim (15), drove to Port Townsend, and thence across the water (aided by a ferry boat) to Whidbey Island and north to Birch Bay (16). The 1000 Trails Birch Bay Resort is just a few miles south of the Canadian border, and a perfect base for exploring Vancouver, just 40 miles the other side of the border. Seems a shame that in almost 3 weeks, we only managed to get to Vancouver twice, but we saw enough to know that we'll have to come back. There's a lot left for us to see.
For the most part, the weather was very nice - we got to ride our bikes most days, and really enjoyed the summer weather. We've gotten used to the weather on the northwest cost often being coolish and dampish. This was a wonderful exception.
Birch Bay itself is a small beach resort type of town (unless you know about the huge BP oil refinery a mile or so back from the water). The bay is quite shallow - at low tide, there's over a half-mile of exposed beach, while at high tide there's almost none. We found an interesting looking restaurant that turned out to be a real bummer - 1hr 15 minutes to get our food, which wasn't all that good. Much better was a nearby Bob's Burgers & Brew, one of a smallish Bellingham-based chain. We liked it a lot, and ate there way too many times.
Next town north, and right on the border, is Blaine. We went one Saturday morning for their annual Harbor Festival, which was very low key and not at all impressive. About 20 vendors, two food booths and some model boats. We must have missed something somewhere, but we weren't much impressed.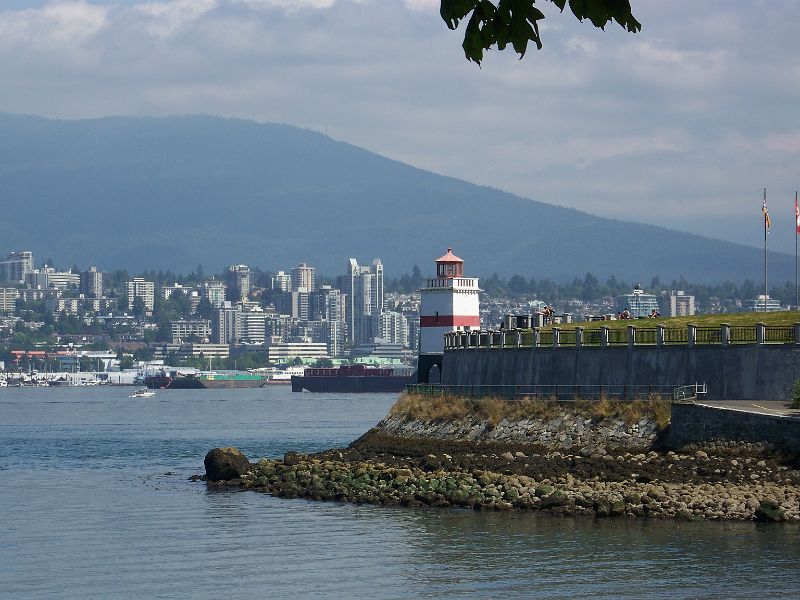 Vancouver, on the other hand, is a bustling, busy metropolis. Ordinarily, we don't much like big cities, but we think maybe we could make an exception for Vancouver. We saw almost nobody that didn't appear to be in good physical shape. We saw Tai Chi groups at bus stops. We saw lots of people walking, running and biking. We felt positively lethargic by comparison. Vancouver is a very ethnically diverse area, with lots of communities from almost every Asian nation and many European and African countries.
Our first visit, we stopped at the Info Center just across the border to get maps and ideas. The lady volunteered that we'd probably want to get back across the border before the five o'clock rush - "That's when we all go south to buy gasoline and go shopping," she said. We wondered about that. We set out exploring, and wound up at Stanley Park, a delightful almost-island park on the northwest side of Vancouver. There's a biking and walking trail that encircles the park, lots of water access, playgrounds, a major aquarium, and lots more. We spent quite a bit of time at a display of totem poles, most of them replicas of actual totem poles found in "First Nations" villages. The views of Vancouver from the park's edges are impressive - a seaplane base had lots of traffic, and the city looks alive and vital across the water. Heading home, we missed a turn and experienced just how alive and vital the city is - traffic was very heavy, but moved well.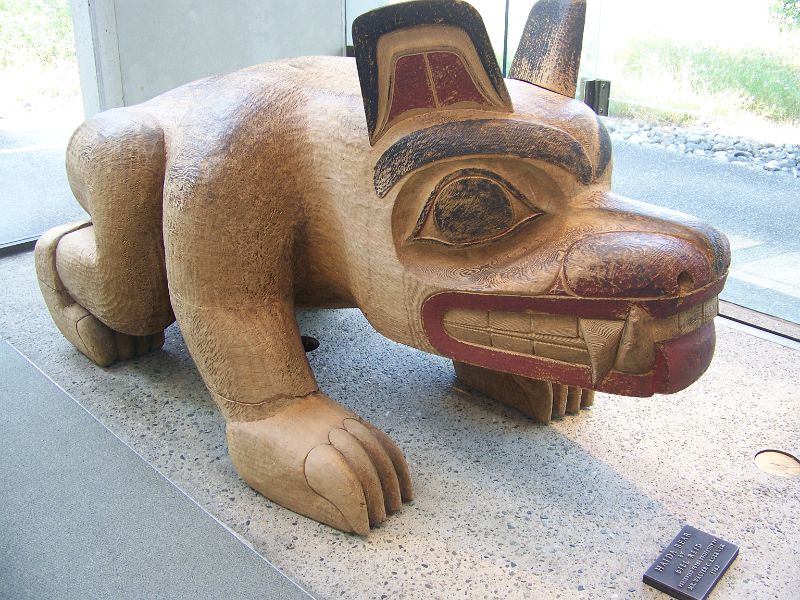 Our second visit, we aimed specifically for the "MOA" - Museum of Anthropology - on the campus of the University of British Columbia. It's a magnificent repository of artifacts from many of the native tribes and villages of the area, although with some interesting and ironic twists. It seems that about 50 years ago, after an intensive government program to abolish native tribes and cultures, a group of well-meaning and well-funded folks decided it might be a good idea to preserve some of that native culture. They began buying up as much native stuff as they could - totem poles, lodge poles, ceremonial artifacts, entire buildings. They built a museum to display it all. They were preserving the culture, but doing it the while man's way. Then, when the government realized the folly of abolishing the tribes and reinstated most of them, the important cultural and, often, sacred objects of those tribes were in a museum. They're working on getting it right. In the meantime, the displays are fascinating. We hope the First Nations people get some better say in how their culture and heritage are preserved. So many of the artifacts were never intended for public display - they'd be used ceremonially once or twice a year and then be put away from human eyes out of respect and reverence. Now they're in glass cases, well lit, and seen by everybody.
As museums go, the MOA could teach other museums a lot. Almost all of their collections are on display, some in traditional display cases, but most in drawers below those display cases. Open the drawers, and a whole new world opens. And in each area of the museum, there's a touch-screen computer terminal. Touch the image of a case, then an item, and access the museum's information database about that item. Touch a drawer and see something about every item in it. For a virtual tour, it's pretty impressive.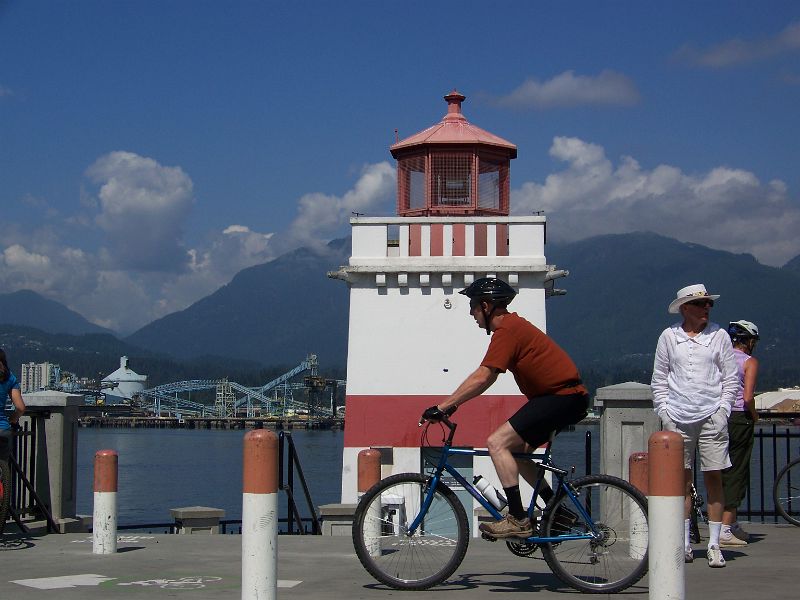 There's a lot more to see that we didn't - one of the world's best gardens, for example, or that marvelous aquarium. Several old churches. Several more museums. And how can you not like a city where the buses apologize for being out of service? More than once we saw buses with the message "Sorry - Not in Service" displayed where the route numbers usually go. We'll be back.
For serious (or even casual) shopping, we went to Bellingham, about 15 miles south. One day, we chose to shop on a day that was also a provincial holiday in British Columbia. Fully 2/3 of the license plates in the Costco and Walmart parking lots were Canadian. The wait for gasoline at Costco (cheapest gas in town) was nearly an hour. People would pull into line, somebody'd get out and go get a pizza, and be back before the car had moved half-way up the line. Gasoline taxes are quite high in Canada, and there's no tax at all on groceries in Washington State. At least in that corner of the country, the balance of trade is very favorable in our favor.
From Birch Bay, we headed south to Jan & Denny's place at Longbranch WA, where we'll be house- and cat-sitting while they go sailing for a month or so. That's for our next report.
Only about 50 pictures in our slide show this time. Check them out here.