April 12 to May 9 - A Month Along the Gulf Coast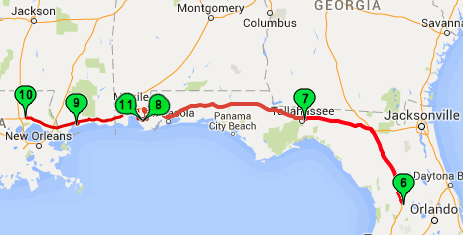 After a whole winter in Florida without moving around much, getting back on the road was less of a major lifestyle change than we expected. Some of our routine "getting ready to roll" chores took a little longer and some extra remembering, but all in all it was rather painless.
As we prepared to head out, we started hearing news reports about severe weather in Alabama, where we were going. Grapefruit-sized hail, they said, and had pictures to prove it. We figured we'd probably have some plan revisions to deal with. As we were planning on an overnight stay at a Walmart our first night out, we were in no great hurry to leave. It was almost noon on April 12 when we left Wildwood FL (6) northbound on Interstate 75. A few hours later, we turned west on I-10.
Other than a very intense rainstorm that lasted about 10 minutes (and proved the worth of our new windshield wipers), the drive was uneventful and around 5:30 we pulled into a retail complex in Tallahassee FL (7) that included both an RV-friendly Walmart and a Costco. We first stopped at the Costco for some necessary shopping, and almost as an afterthought asked the Costco manager if we could spend the night in his parking lot. He explained he couldn't authorize that, because they had no insurance for such things and no security cameras around the building's outside. He then went on to advise that the best place to spend the night in our RV would be behind the Costco building, where the big trucks access the store's loading dock. He assured us it would be quiet back there, and that nobody would bother us. So we moved the rig, then went back into the store for a very inexpensive Costco dinner. It was a quiet and peaceful night.
We were up early the next morning, well rested, and ahead of Tallahassee's rush hour drove to the local Flying J truck stop and topped off our fuel tanks before continuing west on I-10. For the first time in almost two years we crossed into the Central Time Zone, and around noon pulled into the Rainbow Plantation RV Resort at Summerdale AL (8). It was drizzling light rain when we checked in, and raining harder by the time we got to our site and settled in. And then it started pouring. Within an hour, we had a lake around the rig. Got about half an inch before it stopped.
Rainbow Plantation is one of the RV parks owned and operated by the Escapees RV Club, and as members we could stay quite inexpensively - around $18 a night. Escapees parks are inexpensive, pleasant, very friendly, and not particularly fancy. This one had a lot of permanent installations - some folks living there year-round, others maintaining a winter residence. Anyway, on day two we had another rainstorm. Our lake persisted. We pretty much stayed inside.
After the rains, we set out to see what there might be to do. The big tourist place is Gulf Shores, and of the 33 or so "things to do" listed by the Chamber of Commerce, all but one involved either physical activity or drinking - some both. There was one museum, but it was closed for remodeling. So we fell back on doing what we do best - eating out. Our first outing was to the nearby L.A. Barbeque. Our in-car GPS gave it French pronunciation by dropping the punctuation so it came out kind of like "La BarbuQUE". But the food was great, and we went back again before we left town. We also went once to Lambert's Cafe in Foley AL - the world-famous "Home of Throwed Rolls". They actually throw the freshly-baked dinner rolls to you (not at you). Sometimes he throws from close by, sometimes from across the room. The food was good, the servings huge, and the meal enjoyable. We'd eaten there once before, and knew what to expect.
Other than that, we made one trip into Mobile to the Costco store to get Al's hearing aids tweaked, made a visit to a nearby Walmart for some groceries, and saw one final live Metropolitan Opera theater-cast. It was a rather lazy week. Nothing wrong with that.
After a week, we hooked up and drove an easy 109 miles to the Wolf River Resort at Pass Christian MS (9). Pass Christian (pronounced French-style as chris-TI-AN) was almost completely destroyed by Hurricane Katrina in 2005, and got a lot of national exposure when TV host Robin Roberts, who grew up there, brought ABC news crews to town several times.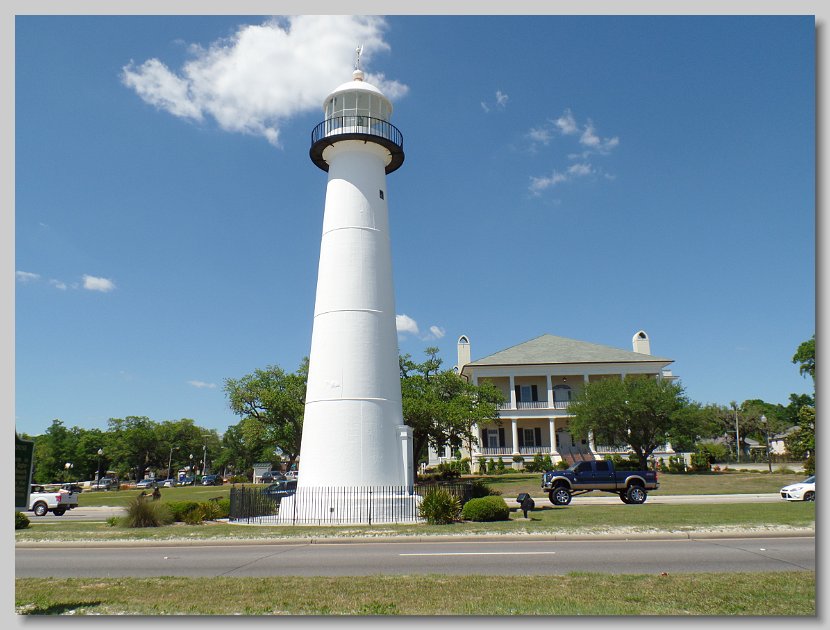 While Katrina caused much more loss in New Orleans, the damage there was primarily from the failure of the levee system to the high water driven up the Mississippi River by the storm. Along the Mississippi and Louisiana Gulf Coasts, the damage was from more "traditional" hurricane causes - high winds and storm surge. A storm surge is wind-driven water on top of normal tidal action. At Pass Christian, the surge was 27.8 feet, the highest ever recorded in the US, and it lasted for six hours - the storm hit at high tide. As the town is right at sea level, with the high spots maybe 10 feet higher, the damage was total. People 2 miles inland had shrimp boats in their yards (some still do). Then add in the winds - sustained for over 8 hours at over 160 mph. That was pretty much the story along the whole Mississippi coast that we visited, from Pass Christian 28 miles east to Biloxi. Unbelievable.
But life goes on - they are rebuilding. While we saw mile after mile of vacant beach-front properties with "For Sale" signs, we also saw plenty of evidence of new construction, much of it ongoing. Some new buildings nearest the water were built on 30ft high stilts. Many old live-oak trees that had been killed by the storm but remained in place have been chain-saw carved into marvelous sculptures rather than being removed. The 28-mile long stretch of pristine white sand beaches is very inviting.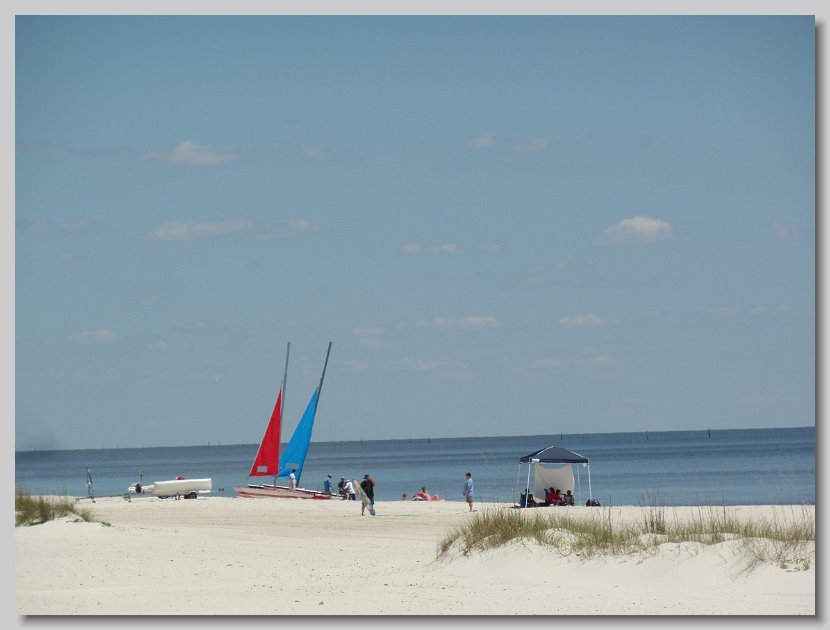 Several of the casinos that brought millions of visitors annually to the Gulf Coast are back in business, although none on the barges they originally operated on. And while just about half the residents of the area had to relocate because of the storm, about half of them have now returned. And the Mississippi coast might just be the friendliest place we've been on our travels.
One day we drove to Biloxi and took the Tour Train around town to see what we could see. They don't show a lot of historical buildings on that tour - there's only one ante-bellum home that survived all the storms over the years, and it's a private residence. But the tour was interesting and our driver Carla was a fount of information.
One day we went to lunch at Darwell's in Long Beach MS, once featured on the Food Channel's "Diners, Drive-ins and Dives". It was a quirky place in that final category, and the food was fantastic.
And we discovered the bakery department at the local Winn Dixie supermarket, and bought one of the Blue Ribbon WInners of the American Pie Council's best pie competition - an absolutely fantastic Apple Caramel Drizzle pie, a winner in 2015. In fairness, there were many, many "winning" pies in 2015, but it's still a great pie. For the next two weeks, we kept stopping at Winn Dixies hoping to get another, and finally found some in Foley AL on our last day before heading north. We bought all they had - two pies. Froze one.
On the way to Wolf River, the RV GPS started misbehaving. Al played with it a bit and couldn't get it to work, so we ordered a replacement which arrived a few days later. Of course, when we ran both the old and new side by side on our next trip, they both worked just fine. So maybe we now have a backup, one that we can't completely trust. We blame it on the fact that it's an election year, which (if you believe the media) seems to be making everybody and everything else crazy as well.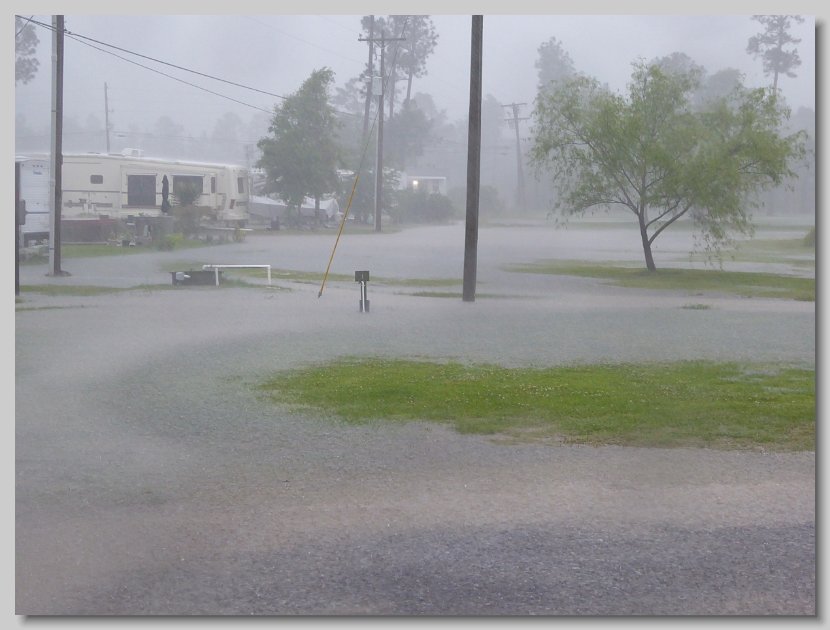 We were at the Wolf River Resort a total of nine days, and on the last morning we had a deluge - over 4 inches of rain in five hours, along with continuous thunder and lightning, tornado warnings, severe weather alerts and flood warnings. A weather station just 3 miles from us recorded over 12 inches of rain in that period. But the water quickly drained away, and the afternoon was very nice. The next morning (April 29) as we pulled out, we were flagged down and told that the bridge between us and the interstate had been washed out. We went another way past lots of high water, and were soon on our way. Later we got to thinking that the same river that washed out that bridge runs through the RV park. We never went down to that section of the park to see if there was any damage, and we never heard reports of any. We assume the best.
From Pass Christian, it's just 80 miles to the Jellystone Camp Resort at Robert LA (10). We stayed a week, and went there because we'd never been, because we wanted to visit New Orleans one last time, and because as a membership park it was very inexpensive. Our second day, we had a rainstorm comparable to the one in Pass Christian, but only 1.5" of rain. Our RV site was completely submerged except for the concrete pad the RV sat on. About 10:30am the electricity went out - we didn't discover that until about 5 hours later, as our batteries kept everything running. It came back around 6:30 that night.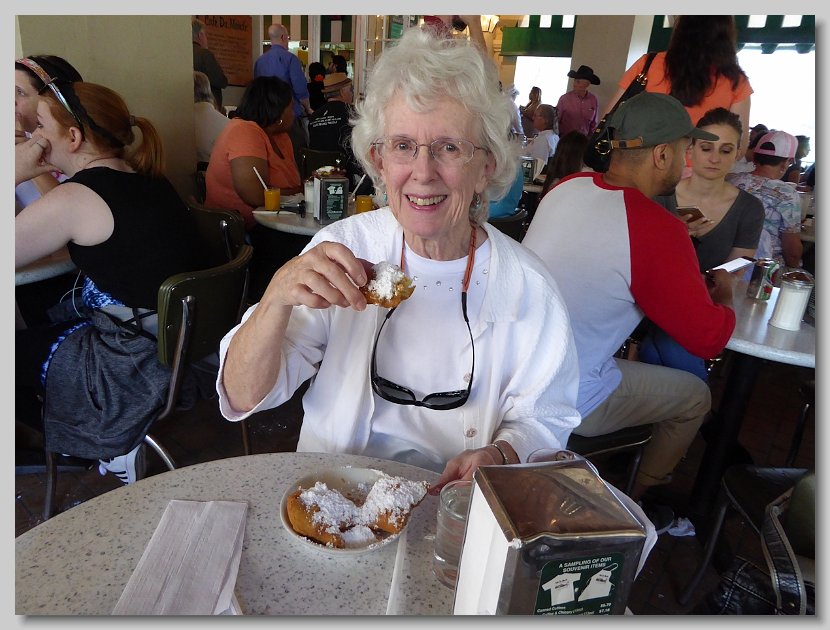 We had just two significant outings - once to Baton Rouge to Costco to have Al's hearing aids further tweaked, and once into New Orleans. The first was moderately successful, the latter a complete success. New Orleans is one of our favorite cities, for many reasons. The food is great, of course, and the street life, especially in the tourist areas, is just plain fun. In Jackson Square there was a guy with three bongos rapping on everybody passing by. Judy dropped a tip in his jar, and he responded "Thank you lady for that buck. Hope it brings you much good luck And you don't get crapped on by a duck." Of course, we had our beignets at the Cafe Du Monde. They've been serving coffee and beignets 24/7 at that same location continuously since 1862, and close only on Christmas Day and sometimes, though rarely, when a hurricane forces the issue.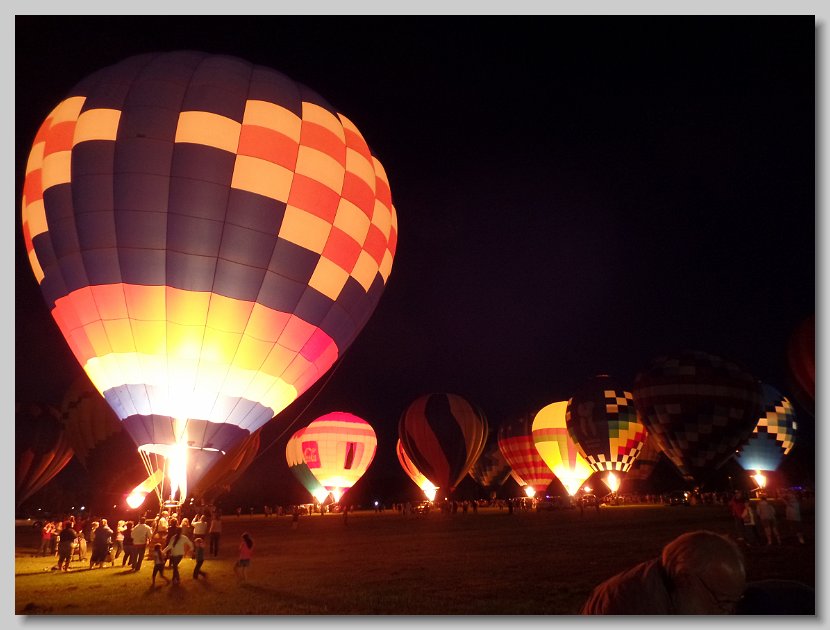 On Friday, May 6, we drove the 178 miles back to the Rainbow Plantation at Summerdale AL (11), where we spent the weekend - we don't particularly like to travel on weekends. On our previous visit we'd seen signs for a hot air balloon festival nearby that weekend, so we battled a huge traffic jam Friday night to see the 40 or so balloons do a "glow" - they all fire up and light the balloons, but don't fly. Really nice. We made one final visit to the L.A. Barbeque, found those two pies at a Winn Dixie, and generally got ready to head north. On Monday May 9, we hooked up and headed for Birmingham AL.
We took a lot of pictures during our month on the Gulf Coast, and you can browse the 71 survivors in our slideshow. Check them out here if you choose.