July 7 - July 30 - Rapid City SD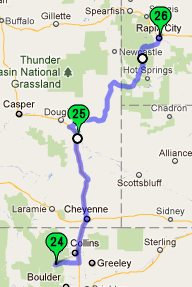 A few months ago, when we were sketching out our summer travels, we knew we'd have to include a stop in Rapid City to renew our drivers licenses. SD licenses are for five years, and there's no mail renewal - you have to appear in the flesh. Plus, since our licenses were issued before the federal security regulations were imposed, the renewal would require a few more hoops be jumped. Plus, our legal address had changed when our mailing service built their new building. So we planned some time in Rapid City. It was only later that we actually checked our licenses and realized that they expire in 2012. Good thing we like Rapid City - we'll be back next year.
On July 7 we reluctantly pulled out of Estes Park (24) and headed downhill. We stopped in Loveland CO for fuel and lunch, then jumped on I-25 and headed north. Just north of Fort Collins, we were passed by a couple of motorcycles and heard a sharp noise. We found a new divot in our windshield - just a little one, and not in the half we'd replaced in June. Sigh. At least patching a small divot isn't expensive - around $60. Add it to our list of things to do while in Rapid City.
We split the roughly 400 mile trip in half, and stopped for the night at the Glendo Lakeside RV Park (25), a relatively new campground (4 yrs old) about a mile from Glendo Lake WY, a popular fishing destination. The lake was very high, the fishing was lousey, and the result was the RV park was less than half full. On checking in, we'd noticed that you could get hot pizza in the park store/office. So for dinner Judy went over and they heated up a delicious pizza for just $6. It was a Tombstone pizza, and surprisingly good.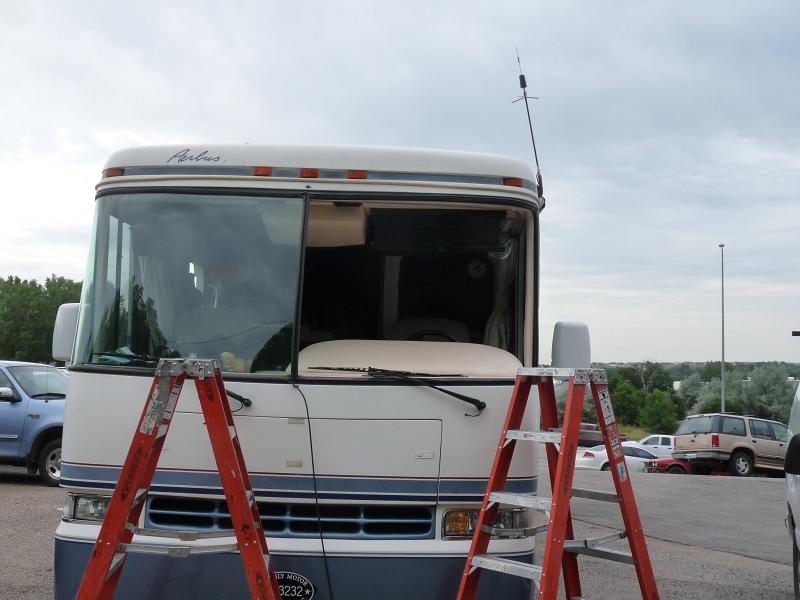 Next morning we headed north again into South Dakota and arrived at Hart Ranch south of Rapid City (26) around 2pm. And as we pulled in, the sun caught the new divot in the windshield, and we could see that it had spread to a nice jagged crack about 6" long. Guess we'll have to replace the rest of the windshield. At least we know the ropes this time.
We spent just over 3 weeks in Rapid City - the longest we've ever spent here. We bounced between Hart Ranch and Rushmore Shadows, two nice RV resorts where we have reciprocal access, which means not very expensive - Hart Ranch was around $15 a night, Rushmore Shadows was free. Our first outing came immediately - we picked up our waiting mail at America's Mailbox, and had a treat at the Rapid City Culvers, our first Culvers since leaving Illinois. After a quick stop at Walmart for a few groceries, we spent the rest of the afternoon talking with insurance people and windshield replacement people. But enough of mundane stuff. It's the touristing we need to talk about!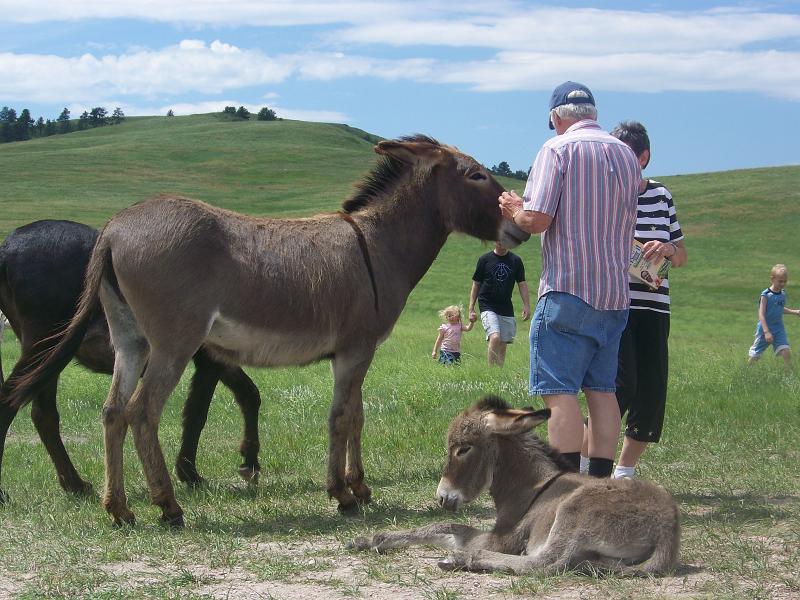 Custer State Park is one of the nicest state parks we've encountered, and it's spectacular almost everywhere. We like the wildlife drive, and this year we got wildlife in spades. Custer SP is home to as many as 1,500 bison, and we think all of them were along or crossing the roadway around the wildlife loop. Lots of calves, too, which means the buffalo sale in the fall will have lots to offer. It's unusual to see Pronghorn near the highway, but there were about two dozen grazing near the loop road. Pronghorn are often called antelope, but they're not - they are a species unto themselves. But they LOOK like antelope, and they RUN like antelope, so the misnomer will probably stick. The park is also home to a lot of feral burros, descendants of animals that used to give tourist rides in the park back in the 1920's. The burros are accomplished and persistant beggars, and are relatively tame - a good thing considing how many small kids are running around petting the adorable young ones.
Custer State Park is also home to the most excellent Black Hills Playhouse, a summer theater offering several shows during the season. We first encountered it on our honeymoon, and try to go whenever we're in Rapid City. This time we saw an excellent production of "Joseph and His Technicolor Dreamcoat". The playhouse had a rough year last season after their building (built during the depression as a CCC project) was condemned. But a well-run funding drive following by some extensive rehabilitation made the playhouse safe again, and they were going great guns this year. The next night, we watched the video of Technicolor Dreamcoat to see what, if anything, the playhouse might have left out. Not a word, not a song.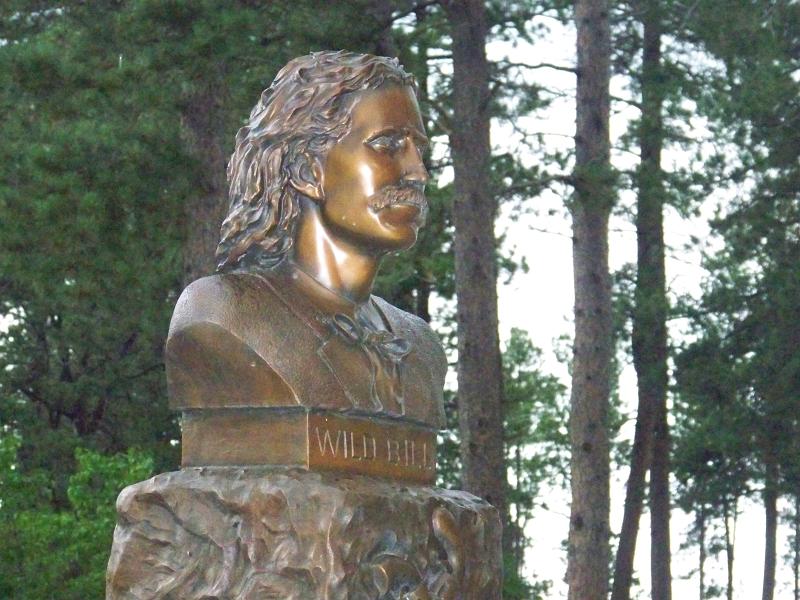 We took a day trip to nearby Deadwood, and did the tourist thing. Visited the graves of Calamity Jane and WIld Bill Hickock. Listened to the tour guide explain the history of the mining town and the (in)famous celebrities that populated it. We'd either not known or had forgotten that Calamity Jane was professionally a "professional woman" of the day, though only marginally successful as she was also remarkably unattractive. And we learned that Wild Bill Hickock was probably not holding "aces and eights" when he was shot in the back. Fact is nobody knows. The "aces and eights" story didn't appear until some 50 years after his killing in a fanciful telling of his life.
Just outside Deadwood is Tatanka, described as "The History of the Bison". After filming "Dances With Wolves" in this area, actor Kevin Costner decided to build a casino/resort themed around the history of the native Americans of the area, the Lakota Sioux. As part of that project, he commissioned a massive sculpture of a cliff drive, where the hunters drive a herd of bison over a cliff, injuring or killing the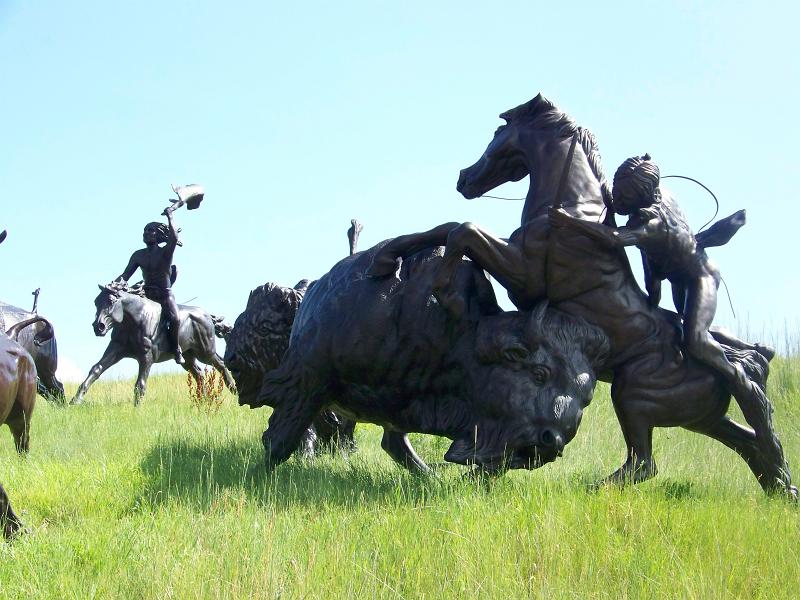 animals. Well, the casino project fell through, and after storing the sculpture for many years, Costner decided to create an interpretive center around the sculpture. It's stocked with lots of Lakota lore, lots of costumes from the movie, and, of course, the sculpture. When we were there, a Lakota interpreter passed along a lot of information about the natives. We learned that "tipi" - the native dwelling - is plural. One "teepee" is a "ti". A grouping is a "tipi". We learned that Sioux is a derogotory term - when the French were first exploring the region, they reportedly asked another native tribe what that other tribe across the mountain was called. As there were hard feelings between the tribes, they replied with an Indian term translating roughly as "cowardly dogs". The French couldn't pronouce it, but came up with Sioux, which is close. This according to Billy, the Lakota interpreter. And possibly even true.
We drove down to Hot Springs to revisit the Mammoth Site. Excavations for a subdivision in 1974 uncovered bunches of mammoth bones. Subsequent diggings turned up the remains of at least 55 animals - they count the tusks they've found and divide by two - and a new tusk was uncovered a couple of weeks before we visited, making it 56 animals. These aren't fossils, but actual bones of animals that fell into a sinkhole over 25,000 years ago. It's a fascinating place.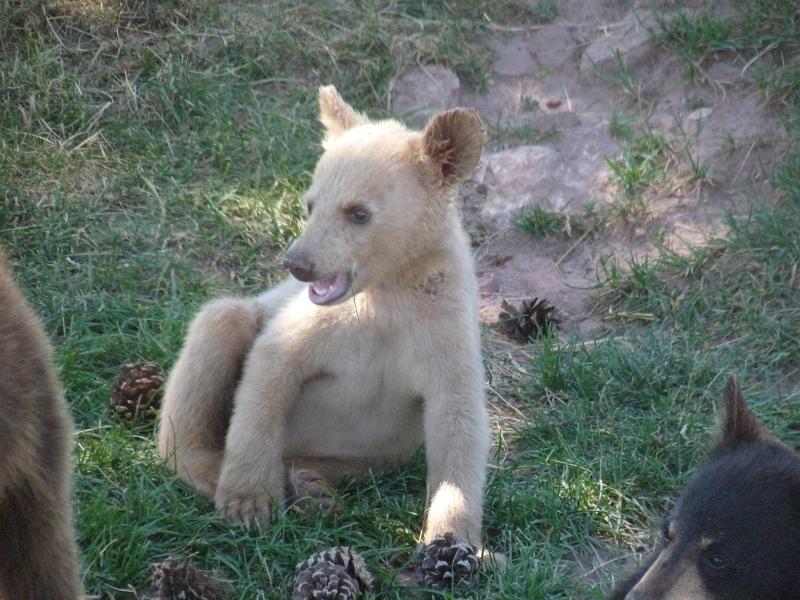 We took a ride on the steam-powered "1880's Train" between Hill City and Keystone. We drove out to Ellsworth air Force Base and took their tour, which includes climbing down into a Minuteman missle silo. We spent a delightful morning at Bear Country, a drive-through encounter claiming more privately-owned black bears than any other place. We wandered around the Pinnacles area of Custer State Park. We toured a delightful reproduction of a centuries-old Norwegian church. We picked up our mail a few times, shopped for some Black Hills Gold jewelry (one of Judy's few weaknesses), and ate out way too often. We had our windshield replaced.
The Rapid City area is ostensibly our "home", although it's really just our legal domicile. Our home has wheels, and we live in it all over the country. But we still like the Rapid City area a lot. But we're not going there in the winter.
About 120 pictures in our slide show this time. Check them out here.
If you're interested in any of our previous visits to Rapid City, here are the links.